Zucchini and Arugula Salad is another one of those things I love to whip together in the summer. It kind of has no rules but always slaps. There isn't really a "recipe" for this, it more like an inspiration. You can kind of do whatever you like, but I'll share what I used and how I do it.
I like to layer different types of fresh veggies and pickled or marinated ones as well. I love making pickled red onions to have around, they are almost always in my fridge. If you haven't had or made them before, they are so so so good and super easy. I love using Lena's Kitchen recipe, which you can find it here. She has some great stuff on her blog, so definitely check her out.
You can totally add a protein to this too, like some grilled chicken, steak or shrimp. If you're looking for a nice steak marinade, I have a great marinade for skirt steak here. This Zucchini and Arugula Salad is a fast and delicious way to get some extra summertime veggies in.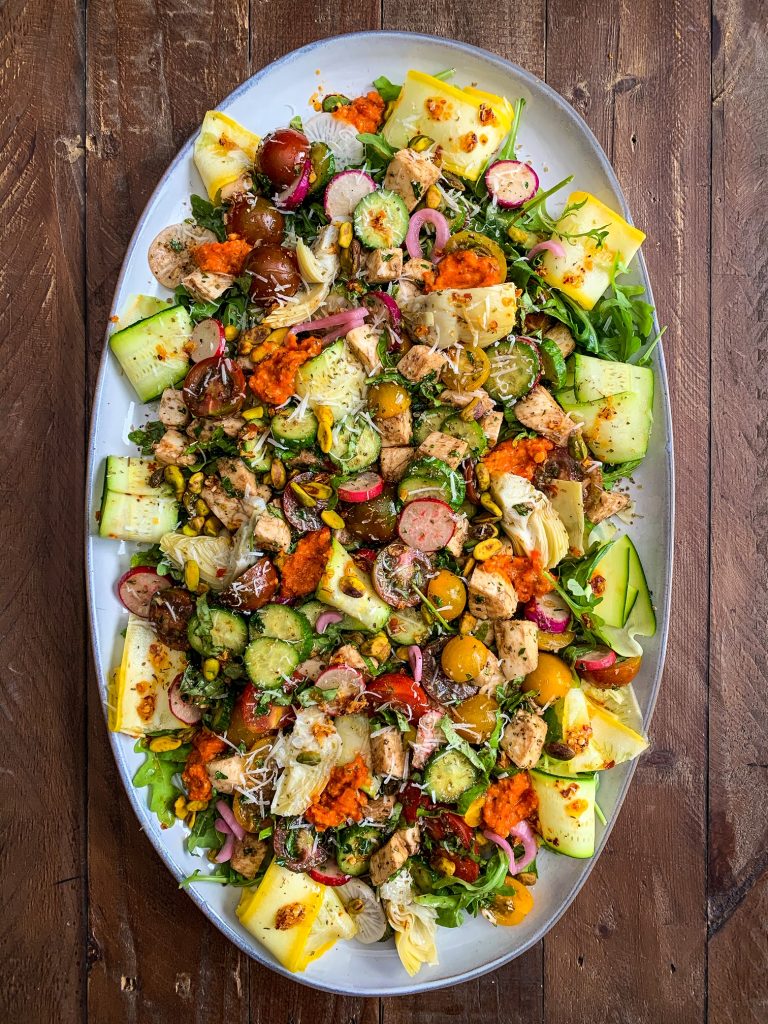 Ingredients
Squash and Zucchini ribbons
Sliced radishes
Marinated Artichokes
Pickled red onions
Fresh mozzarella balls or some burrata
Heirloom cherry tomatoes
Pistachios or pepitas
Parmesan Cheese
Sliced Persian cucumbers
Arugula
Romesco sauce dollops or Pesto
Chili oil
Simple balsamic vinaigrette of: ½ cup olive oil, ¼ cup balsamic, 1tsp. Dijon mustard, 1 clove pressed garlic (you can use ¼ tsp. garlic powder) and 1 small shallot (you can use ¼ tsp. onion powder) and ½ tsp. dried oregano and salt and pepper to taste.
Directions
Prep all your veggies. I like to thinly slice my zucchini and squash into ribbons.
Whisk the vinaigrette together and pour half over the arugula and toss. Allow it to sit for 5 minutes and then build salad on top of it. Use the rest of the dressing over the veggies. I like to finish with a little drizzle of chili oil to bring some heat and dollops of Romesco sauce or Pesto and some fresh Parmesan.