This Taco Quiche is absolutely delicious. Breakfast, lunch or dinner quiches are a great option and perfect to make ahead. Stuff the buttery crust full of your favorite spices, veggies and cheeses and just bake. I personally love this Taco Quiche because it's not your traditional flavored quiche. The seasoned ground beef, fresh herbs and vegetables really make the flavors stand out. I promise once you make it, it will be your go to quiche.
You can even make them without egg, just add extra cheese and filling and call it a tart! There are great frozen crusts at the store too, regular and gluten free. So you don't even have to make that yourself, making this dish so easy.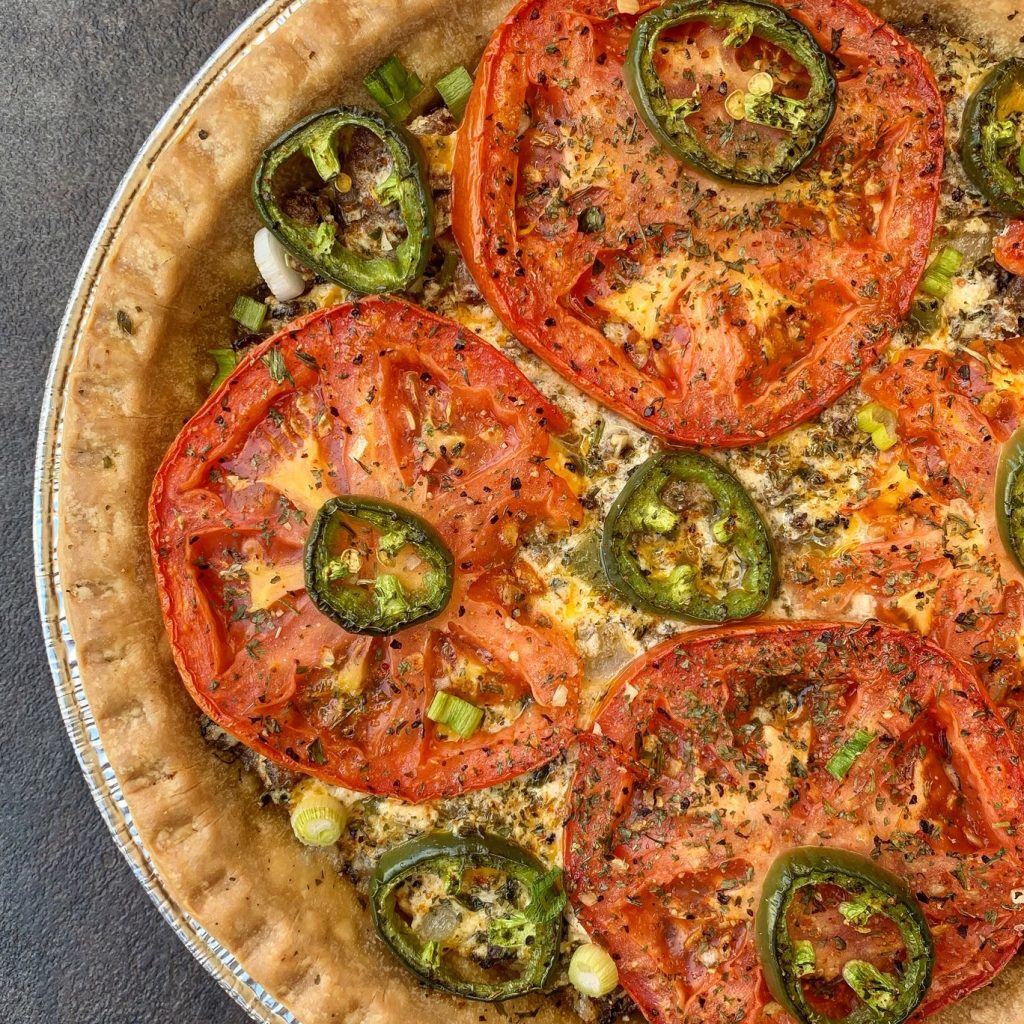 Ingredients
½ – 1lb. ground beef
½ -1 green bell pepper finely chopped
1 small onion finely chopped
1- 12" premade pie crust
4-5 eggs
½ cup cheddar
½ cup ricotta
½ cup Cotija cheese
1½ tsp. taco seasoning, little extra for garnish
1 tsp. fresh chopped cilantro
1 garlic clove pressed
Salt and Pepper to taste
1 cup milk
Topping
Sliced tomatoes
Sliced jalapeno
Chopped green onion
Salt and Pepper to taste
Cilantro to garnish
Spray of olive oil on crust
Directions
Read the directions on your pie crust on how to bake/prep. Prep all your veggies and cheeses. Set oven to cooking temp allow to preheat.
In a large pan, brown your ground beef, onion, pepper and garlic with taco seasoning and salt and pepper. Once finished add mixture to a large bowl. Taste mixture for seasoning. Allow that to cool down for a few minutes.
In a separate bowl, whisk eggs, milk, cheese and cilantro. Add that to the beef bowl and mix.
Pour this into your pie crust and then add toppings, except cilantro. I like to put a little olive oil and a sprinkle of taco seasoning around the crust and on the tomatoes and jalapenos. Bake for 45-55 minutes. Check it at 40 minutes to gauge how much longer it needs. You don't want it to jiggle, but you also don't want to burn the crust. Allow to cool for 15 minutes before cutting. Sprinkle with fresh cilantro, green onion and a crank of fresh ground black pepper.