I have decided to name my left thigh Pappardelle and my right burrata because at this point my body is 50% pasta and cheese. It's ok though, because where am I going?!? NOWHERE! Being in a bathing suit again in front of people is a whole year away at least. Even so, after two margaritas who gives a shit? Good news – we finally did start exercising. We normally walk every day for 30-40 minutes, but let's be real, that's not cutting it anymore. Watching Matt do YouTube videos with me is probably one of my favorite things. He's one of those guys that looks like he works out and is in shape, but it's a lie. He just skates through life with no one commenting negatively on his weight or suggesting that he tries some fad diet, support group or juice cleanse. I signed up for Orange Theory in February and as soon as my first payment went through, it got shut down for COVID. It's looking pretty unlikely that I will ever be able to step foot in there again. I look at my expensive Orange Theory brand heart monitor from time to time and reminisce on what might have been.
So, like many of the pastas I make, this is bomb. I recently learned about black garlic. (I knew about it but I have never seen anyone use it.) Ana from @inspiredwithatwist recently posted a recipe using it and I was intrigued. I reached out to her and she let me know that she got it @wholefoods, so I scurried over there and scooped some up. When I got home, I opened a bulb up and tried a piece. I didn't know what to expect! It was soft and sweet and tasted like balsamic. Naturally I was like well this will be great in pasta or on toast. I like the way balsamic, mushrooms and spinach goes together so that's where this recipe came from. I love the thickness of Pappardelle and who doesn't love some burrata to top off pasta?
Hope you try it and enjoy!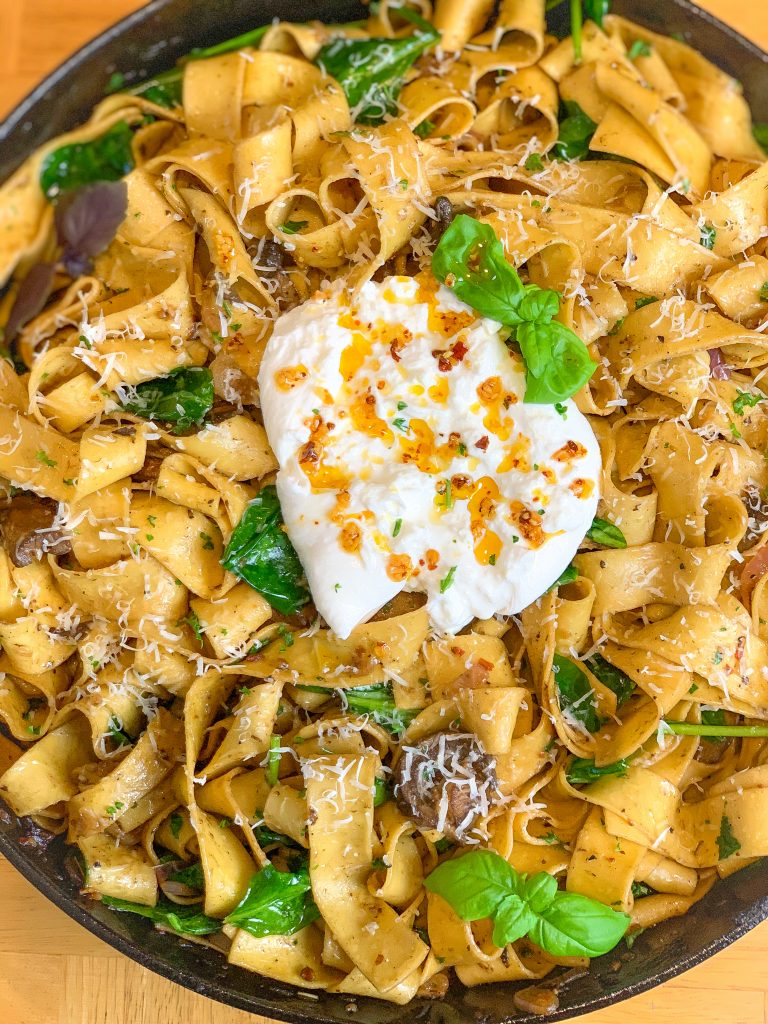 Ingredients
16oz. Pappardelle
10oz Cremini mushrooms
1 ball of Burrata
1-2 tbsp. Olive oil
3 tbsp. Unsalted butter
1 cup Chicken or veggie stock/broth
1 Lemon squeezed
½ tsp. Dried rosemary
Salt and pepper to taste
1 tbsp. Chili Onion Crunch from Trader Joes (If you can't find it just use some red pepper flakes, onion powder and garlic powder)
5 Cloves of black garlic minced (it's a little sticky)
3 small to medium shallots sliced
1-2 Cups of fresh baby spinach
Fresh parsley and basil for garnish
¼- ½ Cup of fresh grated Parmesan cheese
¼- ½ cup of pasta water (make sure to always save it before you drain pasta)
Directions
Get a large pot of water and bring it to a boil. While that is coming to boil prep all of your veggies, cheese and juice your lemon.
In a large skillet over medium heat add a tablespoon of olive oil and a tablespoon of butter. Once it's hot add your mushrooms and toss. Allow them them to cook unbothered for 3-5 minutes and then flip once that side is caramelized. Cook the other side, season with a little S&P and rosemary. When they are done cooking remove them to a plate on the side.
Your water should be boiling now. Season your water with a little salt and drop in your pasta. I always cook it one minute under the directions; it will keep cooking in the sauce. Make sure to save about ½ cup of the water before you strain it. You might not need it all, but it's better to have extra than not enough.
While the pasta is cooking add a little more oil and butter to the pan you cooked the mushrooms in and add in the shallots and cook till softened. Once they are soft, season with S&P, chili onion crunch and add the black garlic to the pan for 1 minute. Then return the mushrooms to the pan with the onions and garlic and mix. Add 1 cup of chicken stock, squeeze of a lemon and the rest of the butter and bring to a simmer.
Once pasta is done add it to the sauce and mix. You can take it off of the heat at this point and mix in a few handfuls of spinach. The heat from the pasta should be enough to wilt the spinach. Sprinkle in the parsley and basil and give it one final mix. Then add your parmesan cheese over the top and ball of burrata. I like to drizzle olive oil or chili oil over the burrata.
Enjoy!