This Baked Mac and Cheese with Vegetables is FANTASTIC! I am by no means a mac and cheese connoisseur. My go to is some Annie's white cheddar in the box. I personally LOVE the mac and cheese from https://jaybirdschicken.com/ and from back home at https://labonnes.com/. They are both super simple but ooey gooey deliciousness. I honestly haven't made mac and cheese before other than one time I helped my friend Jackie before a friend's party. There was a lot of wine involved and the details are a little blurry. All I remember was I wanted to devour it and then stop to pick up some chips to bring to the party instead.
I decided I would give it a crack and I created this Baked Mac and Cheese with Vegetables and it came out BOMB. I know some people love baked mac and cheese and some absolutely loath it. I personally don't love baked mac and cheese; I'm a straight from the pan to my mouth person. However, I did bake this one because I really wanted to try this crust idea I had come up with mixing Cheez It's and Chicharrones.
This makes a ton of mac and cheese. We ate it for 3 days and still froze half of it. Matt said he would easily pay $12 for this at a restaurant, which if you know him, that's like the greatest compliment because he's a garbage monster and loves to eat cheap food. To him it doesn't matter if it tastes good, as long as it's cheap, it's for him. We are very different in that department.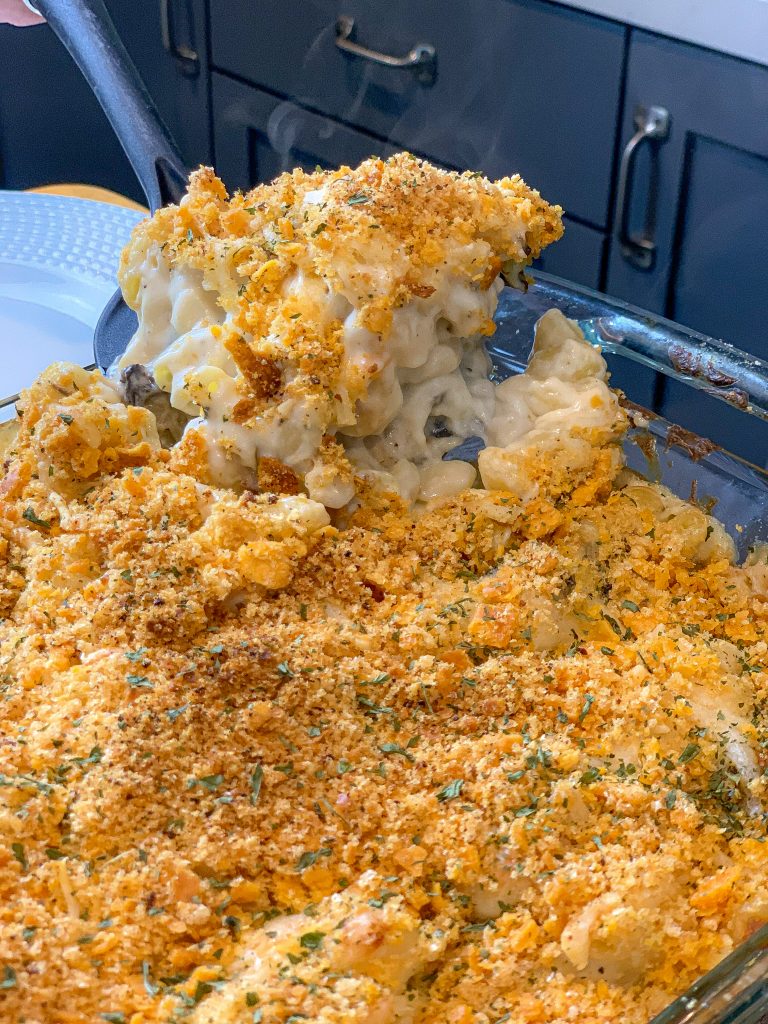 Ingredients
1 lb. Macaroni or Cellentani pasta
1 lb. Brussels sprouts sliced into thirds
8 oz. Cremini Mushrooms sliced
16 oz. Shredded cheese blend of Swiss and Gruyere (Trader Joe's)
8 oz. White cheddar cheese grated
4 oz. herbed goat cheese crumbled
6 ½ tbsp. unsalted butter
1-2 tbsp. Olive oil
5 ½ cups whole milk
¾ cup of flour
Salt and pepper
1 tsp. onion powder
¼ tsp. dried thyme
¼ tsp. nutmeg
¼ tsp. cayenne powder
¼ tsp. mustard powder
Topping
2 oz. Cheez-Its
¼ cup of Italian bread crumbs
1 ½ cups of pork rinds
Directions
First thing is turn your oven to 425 degrees. Chop your Brussels sprouts and slice your mushrooms. Place your Brussels sprouts on a large baking sheet and drizzle with olive oil and toss. Then sprinkle with salt and pepper and onion powder, toss again and spread out on pan. Bake for 20 minutes, check on them and toss them and bake for another 10-15 till crispy. Remove and set aside. Turn oven down to 350 degrees.
While the Brussels sprouts are cooking, get a pan and add half a tablespoon of butter on medium high and place the mushrooms in it. Cook for about 10-12 minutes so they get nice and caramelized. Towards the end, sprinkle them with thyme, salt and pepper. When they are done, remove from pan and set aside.
Put a large pot of water on to boil your pasta and shred your cheeses and set aside. Remove the pasta from the water 2 minutes under the recommended cooking time because it will continue to cook in oven. After you drain the pasta, run it under some cool so it stops cooking. Now, let's get the roux together.
In a large sauce pan or Dutch oven style pan melt 6 tablespoons of butter over medium heat. Then slowly add in flour and whisk and allow that to cook for a minute or two and then slowly whisk in milk, stirring constantly. Add in your seasoning, mix and drop down your heat to low. Now add in your cheeses and mix till all incorporated. Taste it and check for seasoning. Take off heat and add your pasta, mushrooms and Brussels sprouts and mix well.
Grease a 9×13 inch baking dish and pour pasta into it.
Take your topping ingredients and pulse them in a food processor. Sprinkle on top of mac and cheese and bake for 30 minutes in the oven at 350 degrees. Allow to sit for 10 minutes and serve. I personally love adding a little hot sauce to mine before I eat it.