This Apple Cider Cake might be my favorite fall treat. I know so many of you already have your trees up, but if we can just pump the brakes on the Mariah Carey Christmas truck for a hot second…
I get it. With everything going on, we just want to speed through and get to the happiest time of the year (personally that is Halloween for me). I just feel Thanksgiving deserves a little respect! This is the food holiday people! The whole holiday is about eating, no gift giving required. The only thing required from most people is a please and thank you, and maybe some wine. The requirements for the cooks? That's a little different story.
Like I have said before, the Holidays just don't feel the same on the west coast as they did growing up with the seasons in Connecticut. I'm not mad at the weather 99% of the time here, but it would be nice to have a crisp fall day for Thanksgiving and a white Christmas. After that, it can totally go back to low 70's and sunny winter.
One of my favorite fall things was picking apples (j/k I don't think I have ever picked an apple in my life). It's actually eating Apple Cider donuts from Lyman Orchards ( http://www.lymanorchards.com) in Middlefield, CT. Their desserts are AMAZING! Their blueberry crumble pie is FIRE. I have tried A LOT of apple/fall donuts; these are by far the best. Bonus is that part of my family lives right down the street from the orchard, so when I go to visit I am there almost daily.
This Apple Cider Cake was inspired by those donuts that I think about all the time. I don't want to toot my own horn, but this cake nails the flavor (and it's not fried, so it's healthy right?). I like to warm it for a few seconds in the microwave int he morning and eat it with coffee or tea, though some caramel ice cream would go heavenly with it too as a dessert option. I think this recipe could work as cupcakes as well though I have not tried it. If your feeling really ambitious you could make two and create a cake out of it with a cream cheese or caramel frosting.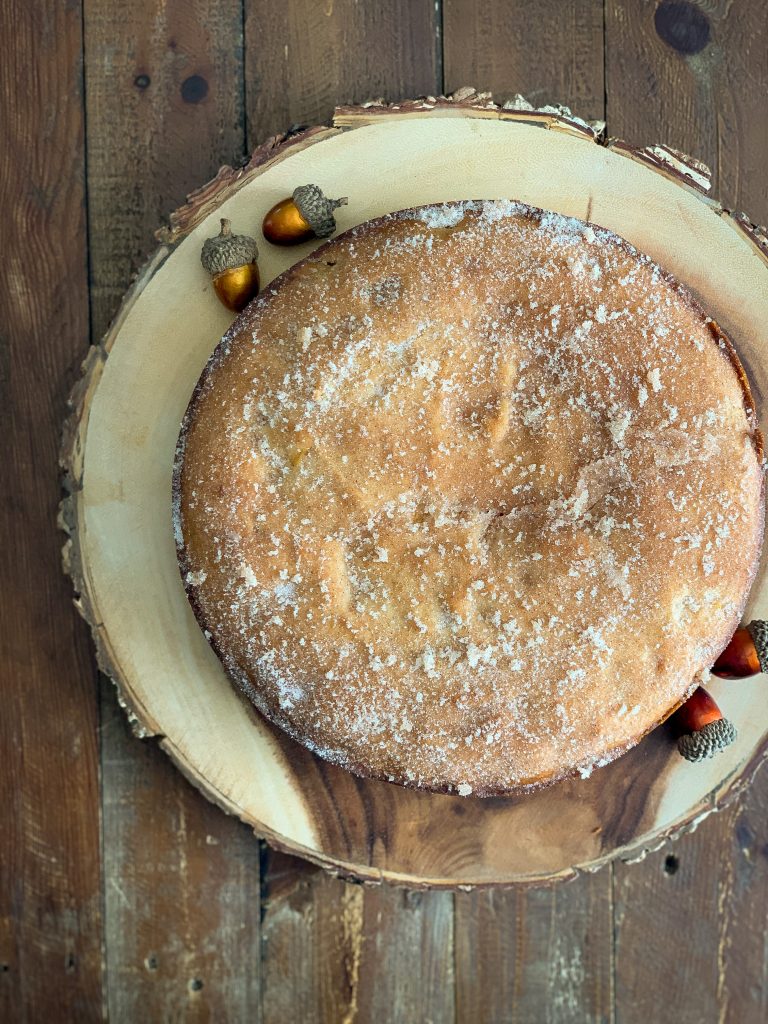 Ingredients
Apple Filling
1 small apple I think I used honey crisp skinned, cored, diced small
4 oz. unsweetened apple sauce
½ cup apple cider
¼ tsp. cinnamon
1 tsp. vanilla extract
Cake
2 ½ cups flour
2 eggs room temp
1 ¼ cups sugar
¾ tsp. baking powder
¼ tsp. baking soda
¾ tsp. pumpkin spice
¾ tsp. salt
10 tbsp. unsalted room temp butter
½ tsp. vanilla
¼ tsp. cinnamon
¼- ½ cup of sour cream
Streusel
½ cup flour
½ cup brown sugar
¾ tsp. cinnamon
4 tbsp. unsalted butter
Topping (this makes a lot, you can totally go with just half)
¼ cup of granulated sugar
1 tsp. cinnamon
2 tbsp. unsalted butter
Glaze (optional and not pictured)
3/4 cup of powder sugar
1-2 tbsp. powder sugar
1/4 tsp. vanilla extract
Directions
First thing you want to do is take out your eggs and butter to come to room temp. Next, we make the filling; we want it to be able to cool down before we make the cake. Take your chopped apples, apple cider, apple sauce, cinnamon and vanilla and place it in a pan over medium low heat, stirring often and cook until it reduces to a thick constancy. This should take about 15 minutes; the apples should still be chunky but softer. Take it off the heat and allow it to cool down. Turn oven on to 350 degrees and spray your bundt or 9 inch spring foam pan with nonstick baking spray and put aside. You can also make it into muffins most likely but I have not tried it yet.
Make streusel by adding melted butter to your dry streusel ingredients and mixing with a fork. Set aside.
Take butter and sugar and beat until light and fluffy. Add in eggs one by one on low and then vanilla until mixed, fold in sour cream and then apple filling.
Mix dry ingredients and slowly incorporate them into your wet ingredients. If it seems a little dry, add that extra little sour cream.
Put half of your batter in your pan and then sprinkle in your streusel all over and then cover with the rest of the batter. Take your time to spread it out evenly.
Bake for 45-50 minutes until it is golden. You can put a toothpick in it, and it should come out clean.
Remove to cool for 15 minutes on a cooling rack with a napkin or paper towel under it (the topping is a little messy). Remove from pan and place back on rack. Mix cinnamon and sugar in a bowl for topping and melt 2 tbsp. butter. Brush the melted butter over the top of the still warm cake. Sprinkle with cinnamon and sugar mixture. I let it sit for another 15-20 and enjoy. At this point you can mix your glaze and drizzle it over the top if you want to try that as well. Enjoy!