Vegetable Baked Ziti is perfect If you don't have the time to make lasagna or you want more veggies in your life. This is one of those dishes that you kind of can't mess up. Really, you can wing it with whatever veggies you have at home. When in doubt, grab some pasta, sauce, cheese and sautéed veggies combine and bake. I wholeheartedly intended on making vegetarian lasagna, but I thought I had bought the ready bake lasagna noodles. I did not, and I didn't have time for all of that. This Vegetable Baked Ziti took less time and was equally as good as what I planned on making, all together a win-win in my book.
I truly hope that one day they come out with the scientific evidence that we need 2 servings of pasta and bread a day. Breakfast pasta, lunch pasta, dinner pasta and some toasted bread as your snack in-between.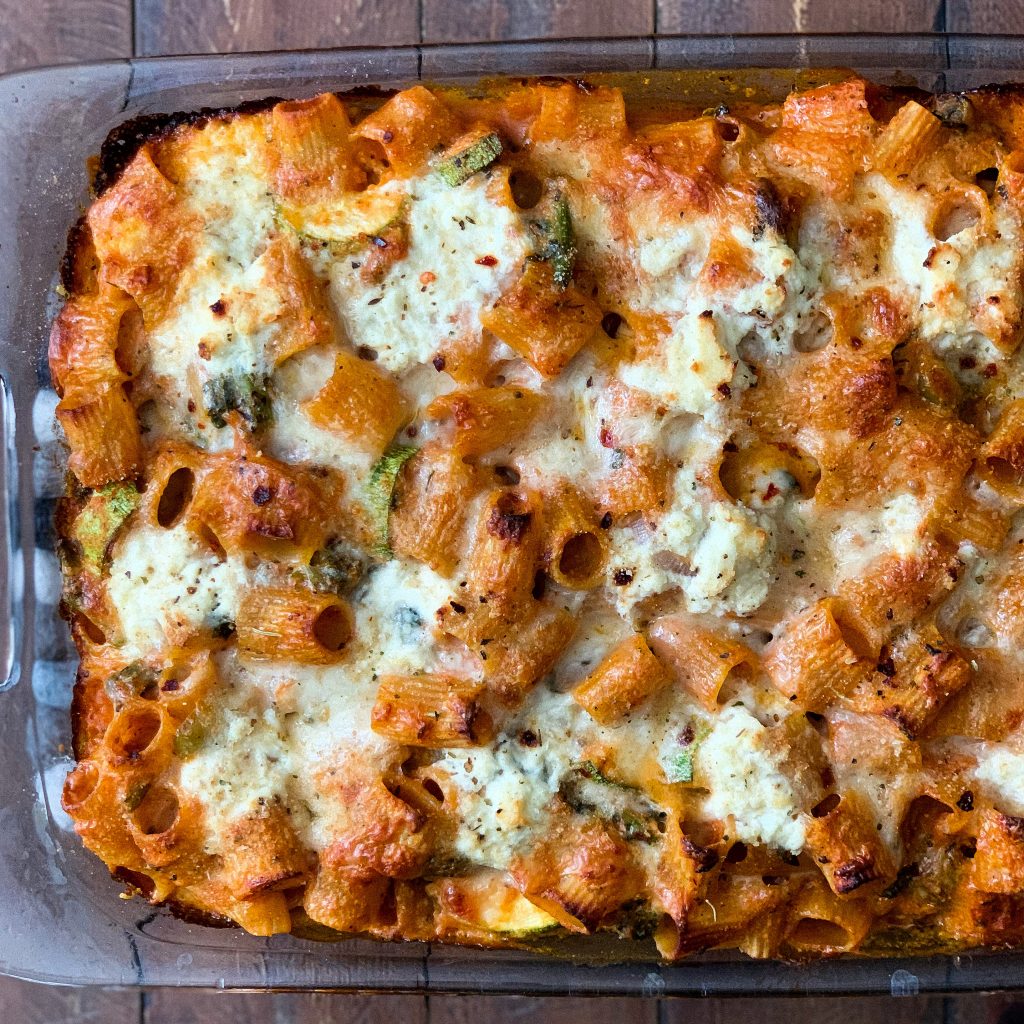 Ingredients
2 ½ cups of cooked broccoli/broccoli rabe or spinach chopped
1 onion diced
1 bell pepper diced
4 to 6 cloves of garlic minced
1 zucchini diced*
1 carrot peeled and diced
1 to 2 tbsp. olive oil
1 ½ tsp. dried Italian seasoning
Salt and pepper to taste, do this throughout the cooking process
Red pepper flakes to taste
1-32 oz. jar of your favorite marinara or homemade sauce
½ to 1 large container of ricotta cheese- full fat
1-1lb. box of ziti
1 to 1 ½ cup of Monterey jack cheese shredded. You can use mozzarella as well, I just like the way the MJ melts.
½ cup of grated Parmesan cheese
¼ cup Italian bread crumbs
Directions
You want to slice the zucchini and salt it and lay it out on a paper towel for 10 minutes on each side to draw out moisture before you cook. Pat it dry after. Zucchini holds a lot of water and can get mushy.
Preheat oven to 350 degrees
Bring a large pot of water to a boil
While the oven is heating and the pot is coming to a boil, chop and sauté all of your veggies in olive oil, salt, pepper, red pepper, garlic and some Italian seasoning in a skillet. You may have to do this in a few batches. You want everything soft but not mushy and then set aside. Remember, garlic cooks fast, so you can wait towards the end of each batch to throw it in.
Once pasta water is boiling, salt it and then add the pasta. You want to cook it till it is al dente, with a bite/chew because you will be baking it. Once it is done, strain it and then add it back into the pot off of the heat.
Add in the veggies, sauce and 80% of the ricotta cheese and mix. Taste for seasoning.
Now, lightly oil a 9×13 Pyrex or oven safe pan with sides. Pour mixture into the Pyrex, dollop ricotta on top evenly all over and sprinkle Monterey jack cheese, Italian bread crumbs and lastly Parmesan cheese. Place a piece of parchment paper over it, and then tin foil over that. Cook for 20 minutes and then remove parchment and foil and cook for another 5-10 until the top is bubbly and toasty to your liking.