This Mexican Chicken Skillet is a real crowd-pleaser. I make it whenever I don't know what to make but need a lot of food. It super easy to whip together any novice could do it. The longest part about this meal is roasting some chicken and making the rice. You can save yourself time and do that the night before or just pick up some already cooked chicken to shred and instant rice. I like to serve it with some sour cream, salsa, guac and tortillas. I hope you give this Mexican Chicken Skillet a try next time you don't know what to make.
I recently whipped it up for my family when I was back east visiting. Everyone was out by the lake, and I as, the ghost of a person I am (pale) was hanging indoors. So why not keep myself busy and make dinner. Nearly everyone in my family has beautiful tan skin. My brother and I don't even look like we share the same parents. He is a sun god and I am a vampire. I thought there was a chance we weren't related to be honest, but 23andMe proved otherwise. I guess that saved us a lot of family drama. Speaking of my brother, he was tasked with picking up the ingredients and he forgot cilantro for this dish. I'll never forget that Allan. NEVER!
It started raining right as we were eating dinner, and it was freaking insane looking out at the lake. Living in Southern California, I forget how intense those storms can be back east. We had to pull in my 5 year old niece from the balcony because she was out there like Lieutenant Dan getting high off of the energy of the storm.
I didn't add Jalapenos to the dish because the kids were eating it too. It was so funny because nobody ate any of them but my brother and me. They were too "spicy"… Oh white people.
We lost power not too long after we had started dinner. It stayed off for 6+ hours. My dad was supposed to stay up there with me, but about 10 minutes after we lost power he was like, "I'm outta here!" because he couldn't watch TV. Dude just bounced on us and headed back to town an hour away. So I hunkered down with my brother's in-laws and had a fun night filled with wine and peanut butter whiskey by candle light.
4-6 servings and takes about 40 minutes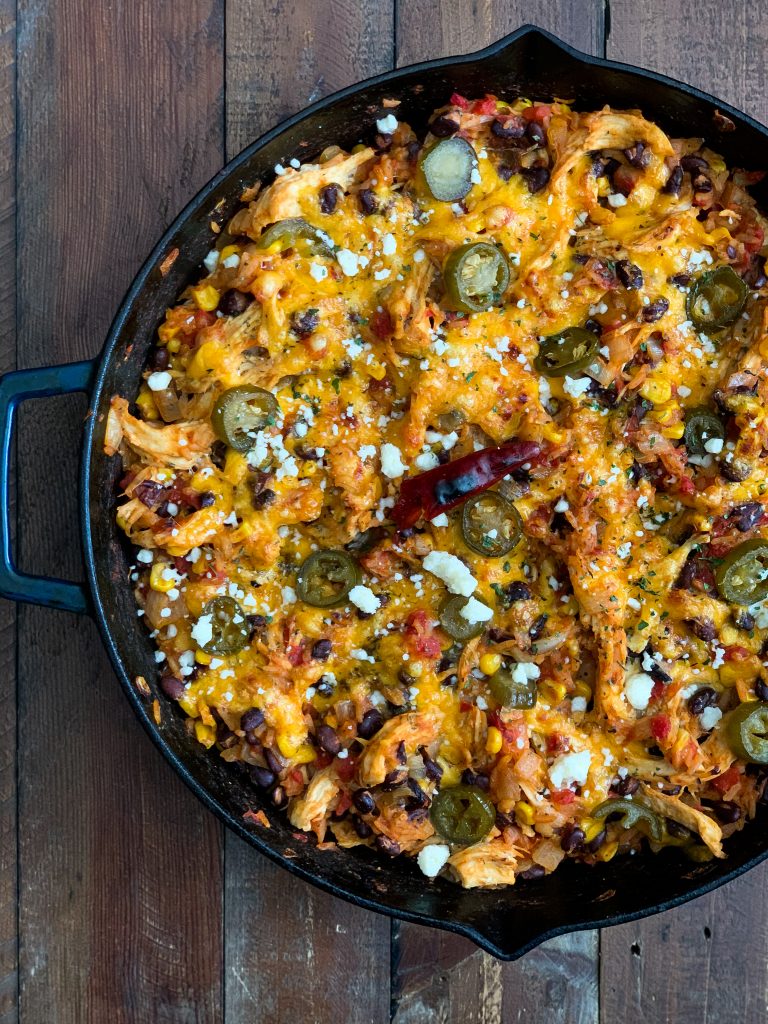 Ingredients
1 large chicken breast
10oz. can green enchilada sauce
1 tbsp. lime juice
1 onion diced
1 tbsp. tomato paste
1 cup rice cooked and cooled
1 tbsp. olive oil
14.5oz. can diced tomatoes with green chilies
4 cloves of garlic pressed
1 ½ -2 tsp. taco seasoning (may need more)
2 tbsp. fresh chopped cilantro a little extra for garnish
Pickled jalapenos chopped (optional but I love)
1 cup shredded cheddar cheese
¼ cup cotija or queso fresco cheese crumbled
15.5oz. can of black beans
8.5oz. can of corn
¾ cup of chopped black olives
Salt and pepper to taste
Directions
Cook 1 cup of white rice earlier in the day, let it cool and put in fridge.
Season chicken breast with olive oil and 1/2 tsp. of taco seasoning. Bake chicken breast at 400 degree F until it reaches 165 degrees F internal.
For the Instant Pot: take chicken breast and add it into the Instant Pot with enchilada sauce, ½ tsp. taco seasoning and lime juice. Cook on manual high for 12 minutes. If the chicken breast is frozen, add 3 minutes to original cooking time. Remove and shred chicken, then add back into the Instant Pot for 5 more minutes, then quick release.
Now over medium heat, add the olive oil to a large cast iron then add onions to cook. Give that 4 minutes or until onions are soft then add garlic. Let that cook another 2 minutes then add tomato paste and mix. Cook for another 2 minute or so, then add in diced tomatoes, enchilada sauce if you baked your chicken, lime and stir, cook down for 2-3 minutes. Add rice and taco seasoning and give it a good mix.
Drain beans and corn and add them to skillet. Mix it all together and let cook for 5 minutes on medium low.
Remove chicken and ½ a cup of liquid from Instant Pot and add that to the skillet as well as the olives and mix. Taste for seasoning, add cilantro and cook for 3 minutes. Remove from heat and turn on broiler in oven. Sprinkle cheddar cheese, cotija and add jalapenos. Place under broiler till cheese is nice and bubbly.
Garnish with cilantro. Serve with sour cream, guacamole and hot sauce. You can eat it by itself or serve with tortilla chips, taco shells or lettuce wraps.