Pork Chops and Hot Cherry Peppers is a dish I remember eating often as a kid growing up. A simple seasoning on the pork chops and then cooking them in some of that yummy pepper juice and a splash of vinegar if you want a little extra tang. I personally don't think that the peppers are anything too crazy in the heat department, but you can absolutely sub some sweet cherry peppers instead. It will taste a little different but It will still be good. Pork and Hot Cherry Peppers is a very simple, no fuss, rustic dish. From start to finish this meal should take you only about 15 minutes!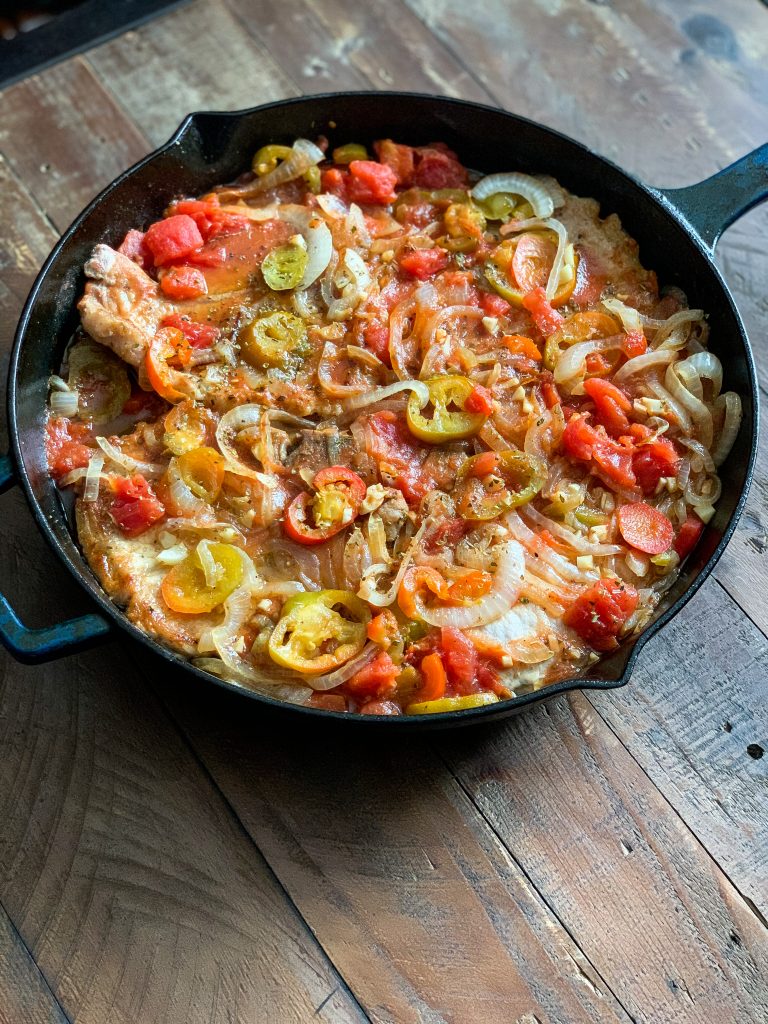 Ingredients
4 bone-in pork chops, 1-inch thick
Salt and pepper
Onion powder
Garlic powder
Olive oil
½ tsp. dried oregano
1 large yellow onion sliced
3 garlic cloves minced
1 can of diced Italian tomatoes
½ cup chopped hot cherry peppers seeded (more if you like it spicy)
¼ cup cherry pepper vinegar (from jar)
½ cup chicken or veggie stock or white wine
Parsley for garnish
Splash of white vinegar (optional)
Directions
Slice and mince onion and garlic. Season pork chops with salt, pepper, onion powder and garlic powder. Place pork chops into a hot skillet over medium heat with a little olive oil.
While the pork chops are cooking in another pan, sauté the onions in some olive oil till soft. Season with a little salt and pepper and add in the garlic and hot cherry peppers to cook down.
Once pork chops are seared on both sides, about 4 minutes each side, add in the liquids, then diced tomatoes and oregano. Stir and add in the onion and cherry peppers on top to cook for another 5-10 minutes, then serve!