Man do I love good creamy chowder, even though chowders don't always love me…
I really need to start paying more attention to the weather because it was hot as all hell yesterday. I had already bought all my goodies to make this, so your girl was committed, I was making this Zucchini and Corn Chowder. The weather hadn't been so bad the week prior, so I thought a nice summer soup was in order. WRONG!
I brought my fan into the kitchen to help but it kept blowing the flame all over under the pot and almost set my kitchen on fire (I had a roll of paper towels a little too close to the stove).
I battled through the heat and created this delicious Zucchini and Corn Chowder. I was sweating while I made it, and I was sweating as I ate it. Today is just as hot, if not hotter, and guess what we're having again tonight for dinner?!?!
I also shared a non-dairy option at the bottom and you can also make this vegan by opting out of the bacon and using veggie stock instead of chicken.
I have done a few "Whole 30s" in my day, so I know the struggle of finding tasty non-dairy options.
Diced vs. Chopped (diced is uniform pieces and chopped is a rough dice where things are similar in size but not perfect). For this soup I tried to dice things so they would cook evenly. Not going to lie, I don't always do it, chopped usually is fine as long as I try to make them as close as possible. Restaurants tend to pay more attention to diced vs. chopped for various reasons. At home, I don't really care.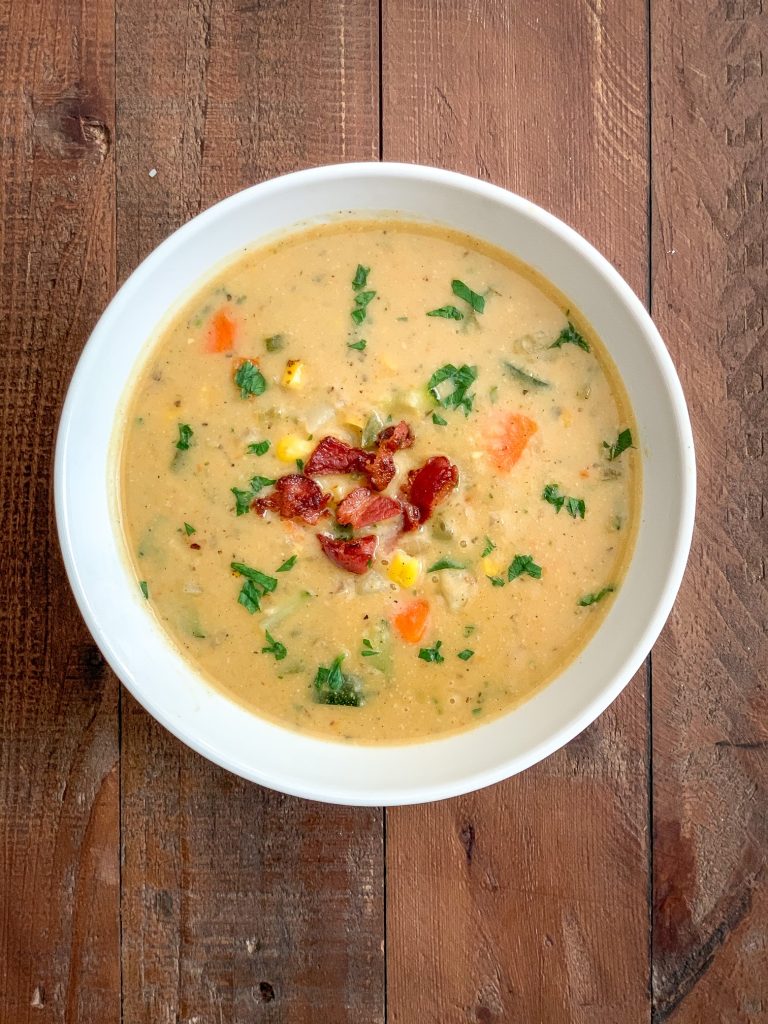 Ingredients
1 large russet potato, peeled and cubed (use two if you are doing dairy free/vegan it will help thicken it more)
1 large carrot – peeled and diced
½ large onion – diced
2 celery sticks – diced
3 garlic cloves – pressed
1 large zucchini- diced
½ jalapeno- seeded and diced (use a whole one for more spice)
½ yellow bell pepper- diced (optional, my husband doesn't like them)
2 pieces of bacon- chopped and save some for garnish
2 cups of corn, grilled, canned (drain) or frozen ( if you use cobs, save the cobs and add it into the pot to simmer)
1 bay leaf
1 tbsp. flour
1 qt. chicken or veggie broth
1 tbsp. unsalted butter
¼ tsp. dried basil
1 tbsp. dried thyme
½ tsp. sweet paprika
1 cup shredded white cheddar (from brick of cheddar, not bagged)
¾ cup of half and half
Salt and pepper to taste, fresh cracked black pepper is great in this
Your choice of chopped parsley, basil, green onion or cilantro to garnish. I think any of those would work fine.
Directions
I personally find prepping all my stuff first to be helpful. Once I shred the cheddar, I place it back into the fridge. I also wait to cube the potatoes last so they don't turn brown.
Start in a large pot; I use my Dutch oven with butter (optional if you're doing non-dairy) and bacon. Cook this until the bacon is browned and remove to a paper towel and set aside.
Add your carrots, celery, jalapeno, bell pepper and onion to pot with bacon grease and cook until they soften, not mushy just soft. Add in your garlic and dried herbs, some salt and pepper and mix. Cook for 1-2 minutes. Add your flour over the veggies and mix. Allow this to cook for another 3 minutes so you cook the flour taste out.
Now add in your broth and potatoes and cobs if you saved them. Give it a stir. Bring to a boil and down to a simmer for 8 minutes. You don't want potatoes to be completely cooked. Now, add in your zucchini and corn and cook for an additional 6-8 minutes till your potatoes and zucchini are cooked. You still want a little firmness on the zucchini and not mushy.
At this point I check for seasoning of the broth and adjust.
Remove the cobs. I then pureed a few ladles of the soup mix and add it back into the pot and then I mixed in the cheese followed by the half and half. I cooked this for 3 minutes, checked for seasoning and served.
Non-dairy options: if you don't want to add any dairy you can just puree a few cups of the soup to thicken it. If you want a cheesy taste, but no cheese, you can always add nutritional yeast for a little cheese flavor. I know people like to sub out coconut milk for dairy or cashew milk. The full fat coconut milk will obviously give it a coconut taste. Cashew milk is not as thick as half and half, so it won't be as creamy.
Leftovers!
I just added some Franks Red Hot into my leftover soup and some sour cream, and I am not mad at it!