With the Super Bowl right around the corner, I thought I would share this tasty and easy buffalo chicken pizza! I personally love buffalo wings, buffalo wraps, buffalo eggrolls aka anything buffalo. My go-to bottled buffalo sauce is Sweet Baby Ray's. If I want to make my own I do a mixture of Frank's Hot Sauce and Kerrygold butter. I like making this pizza because it gives you all the buffalo chicken goodness in every bite, and it's a pizza, best of both worlds.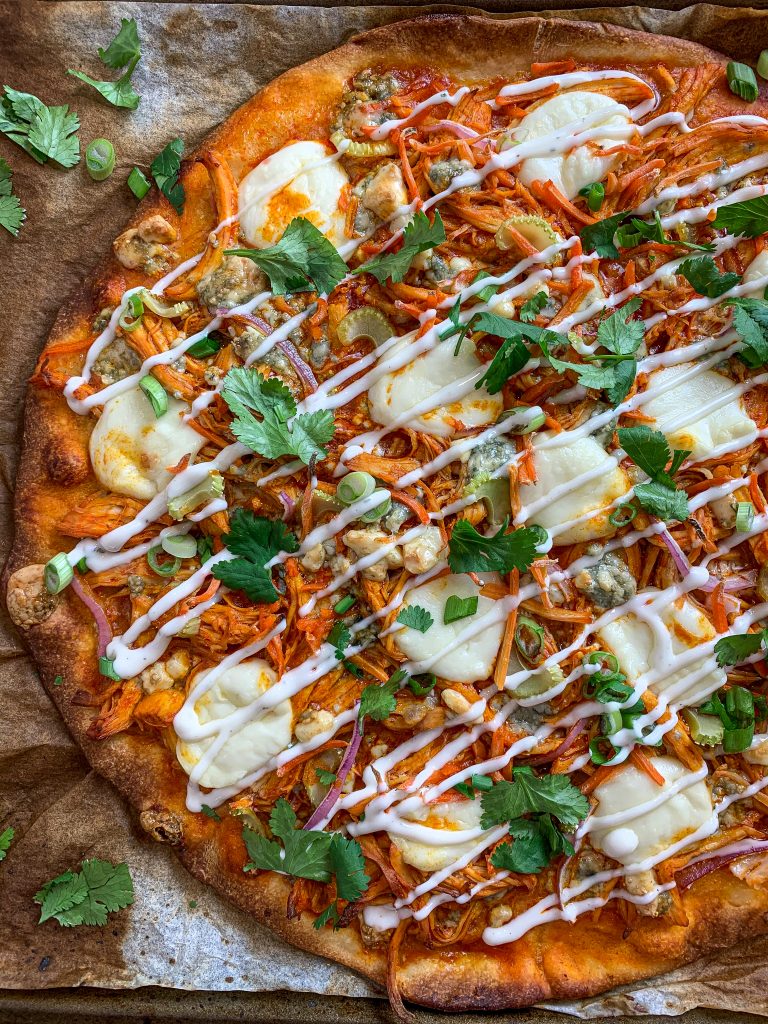 Ingredients
1 pizza dough
1 chicken breast
½- 1 cup of buffalo sauce
1 celery stalk sliced
¼ cup of shredded carrots
¼- ½ cup of blue cheese crumbles
¼ cup of ranch
¼ cup of chopped fresh cilantro
8oz. container of plain mozzarella balls
¼ of a red onion sliced thin (probably won't need all of it)
2 green onions chopped
Directions
You are going to want to cook the chicken first; this is where you can kind of do whatever you want. I personally cook it in the Instant Pot with a little chicken broth and then take it out, shred it and add it back in with a cup of buffalo sauce and cook it again for another minute to absorb the sauce. You can also grill, bake or fry it. I would suggest if you fry it, not to add it till the very end of the pizza cooking so it doesn't get soggy. You can toss it in sauce or drizzle it over the top.
Set your oven to whatever your dough suggests. I always let it heat up for at least 20 minutes to get nice and hot and leave the pan you're going to cook it on in to heat up as well. Just be careful when you are placing the dough on it because it will be HOT.
I start by drizzling a thin layer of buffalo sauce on the stretched dough, leaving just a little around the edges without. Now I add the shredded chicken then blue cheese crumbles and mozzarella balls. On top of those I add the celery, shredded carrots and red onion. I then drizzle a little more buffalo sauce; I leave off the green onion and the cilantro and Ranch dressing. I bake it till crispy and then drizzle it with Ranch dressing and sprinkle it with green onions and cilantro.