Chicken Marsala is an Italian American dish (like so many of the things I make). It is pan-seared chicken cutlets with earthy mushrooms in a Marsala wine sauce. Traditionally it isn't made with cream, so you can totally opt out of it, but I suggest you add a little. I also like to add sun-dried tomatoes because, why not? I do what I want in my kitchen.
My dad LOVES this dish. If it's on the menu, there is a good chance he will order it. I remember going to this one restaurant growing up, and every time we went, he would get it, I would get it and even sometimes my mom (though she was usually more of a baked sole person). My mom also did catering, and it was often a dish they served and she would bring home all the leftovers. Needless to say, I have eaten A LOT of Chicken Marsala in my 35 years. My husband also loves anything with mushrooms, so he's always down for this as well.
It's an easy, delicious dish and I highly recommend giving it a try if you haven't. It will always impress your friends, unless they're weirdos and don't like mushrooms…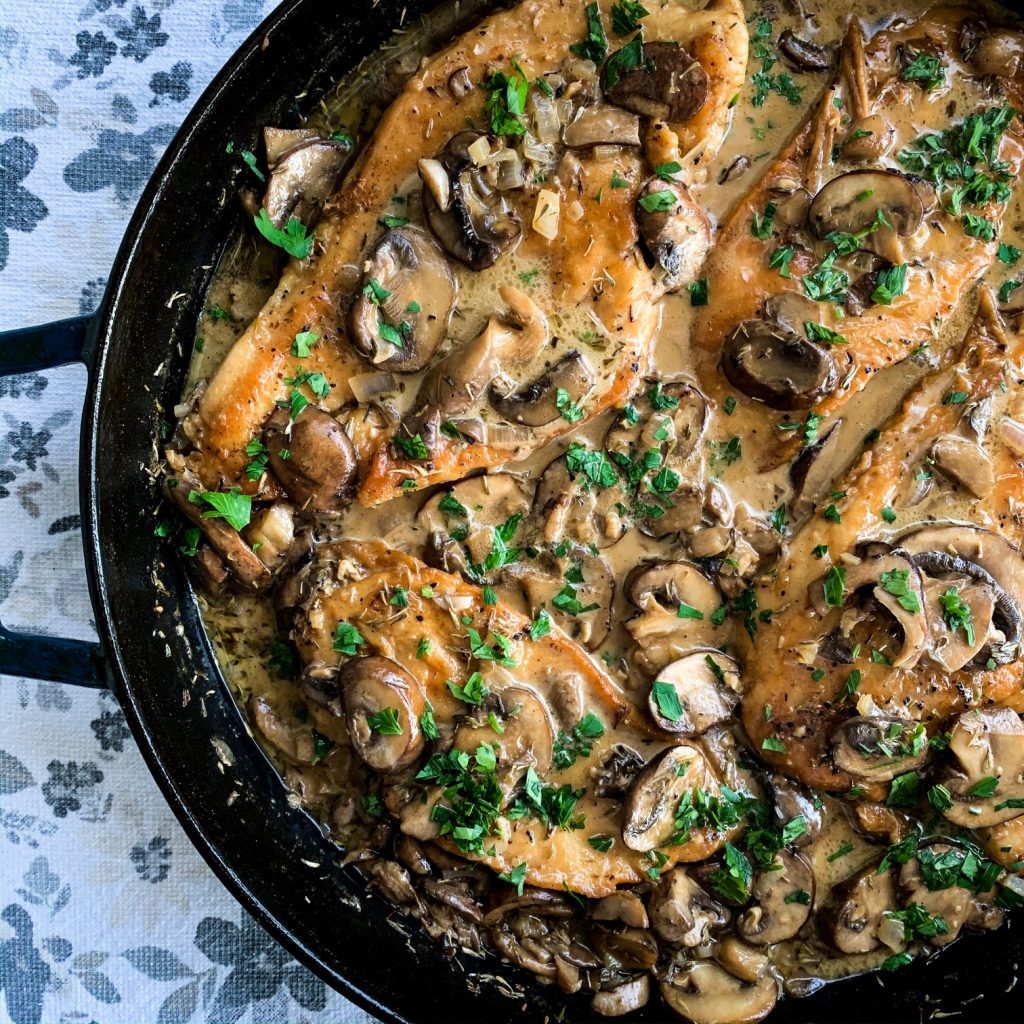 Ingredients
Chicken
2 chicken breasts sliced in half ( 4 pieces total)
3 tbsp. of flour
¼ tsp. sea salt
2 tbsp. olive oil or enough to coat pan
2 tbsp. butter
¼ tsp. pepper
¼ tsp. garlic powder
¼ tsp. onion powder
¼ tsp. paprika
Marsala
8oz Crimini mushrooms cleaned and chopped in thirds (or buy pre-sliced)
1 tbsp. olive oil
2 tbsp. butter
½ tsp. onion powder
½ tsp. salt
¼ tsp. black pepper
¼ tsp. Dried Italian seasoning
¼ tsp. thyme
½ onion finely diced or 1 shallot
2-4 cloves of pressed garlic
½ cup heavy cream
1 – 1 ½ cups beef or chicken broth. I like beef because it gives a deeper flavor.
½ cup dry Marsala wine
Pinch of red pepper
1 tbsp. fresh parsley chopped
Directions
I like to start by prepping all of the herbs and veggies and setting them aside.
I take the chicken and cut it into two pieces and tenderize it. If you haven't done this before, I use a piece of plastic wrap, cutting board and a tenderizer. I place the chicken on the cutting board and then the plastic wrap on top of it. Then I tenderize the chicken breast on both sides. You want the thickness to be as even as you can, so they cook evenly. I place them aside when done.
Take your tenderized chicken and add it to a large Ziploc bag or bowl and add your flour and dried seasonings and shake it up to coat the chicken. Pull it out, shake off excess and set aside on a plate to be cooked.
Get your large skillet add 2 tbsp. olive oil and 2 tbsp. butter to coat the bottom of the pan and turn it on medium.
Once your skillet is hot and ready, place your chicken in it to cook. This should take about 3-4 minutes per side. When chicken is done remove it from the pan and place on a clean plate.
Sauce
If the bottom of the pan doesn't look too bad you can just use the oil/butter that's already in it and just add a little more. If it looks too burnt, clean it out with a paper towel and start fresh.
Heat oil and butter in the pan and add mushrooms and stir around. Allow these to cook for 3 minutes till they begin to soften and brown. Then add your finely diced onion/shallot. Let them cook down for about 5 minutes onions are soft and translucent. Add garlic and cook together for 1 minute. Add the Marsala wine to deglaze the pan. Use a wooden spoon to scrape the bottom of the pan. Then add beef stock and dry seasonings, omitting parsley. Cook this down for about 4 minutes then add milk or cream and stir. Cook for another minute and then taste for seasoning.
Now it's time to join them together. Take your chicken and nestle it into the sauce and sprinkle in your sundried tomatoes, let this cook for about 5 minutes. If the sauce gets a little too thick just whisk in a little more stock/broth.
Sprinkle with parsley and you are all done!
I like to serve it with garlic mashed potatoes and grilled veggies. Also great served over some buttered penne.