I am naming this one after us. This chicken dish represents all the things that Matt and I love: olives, salted meats, breaded chicken, cheese and a little bit of lemon. I have not seen or had this anywhere, but who's to say it doesn't already exist? After a quick Google search, I didn't see it. Have I created something new for the entire culinary world to enjoy?!?!? Doubtful, but I'm rolling with it.
Originally I was going to pair it with some mashed potatoes and veggies, but at the last minute, I thought a super simple arugula salad would hit the spot. The fresh lemon juice was the perfect amount of tartness to cut through the saltiness of the dish. It's pretty easy to assemble and you can make a bunch or just enough for dinner that night. Once you make the breaded chicken (you can totally do baked or grilled chicken but I suggest trying it this way first then modifying it), the rest only takes a few minutes and you have a gourmet tasty meal. I would recommend not pre-assembling everything until you're ready to eat. Like if you're making a batch of it, add prosciutto, cheese and olive salad right before you serve it. Otherwise it can get soggy. It only takes a few minutes under the broiler so it's not a big pain in the butt to assemble.
As a side note, not all olive salads are the same. Some are freaking delicious and others are revolting or just… blah. I really like this new one I tried. I am also a big fan of the one at Costco in the cheese aisle, although I haven't seen it there lately. So I would recommend finding one you actually like before you use whatever you find. It makes all the difference. I also decided to add in some capers and diced hot pickled cherry peppers to give it a little heat. I think it really added a little extra somethin' somethin' to it and would strongly recommend you do the same. Sometimes olive salads do have capers already in them, so just double check!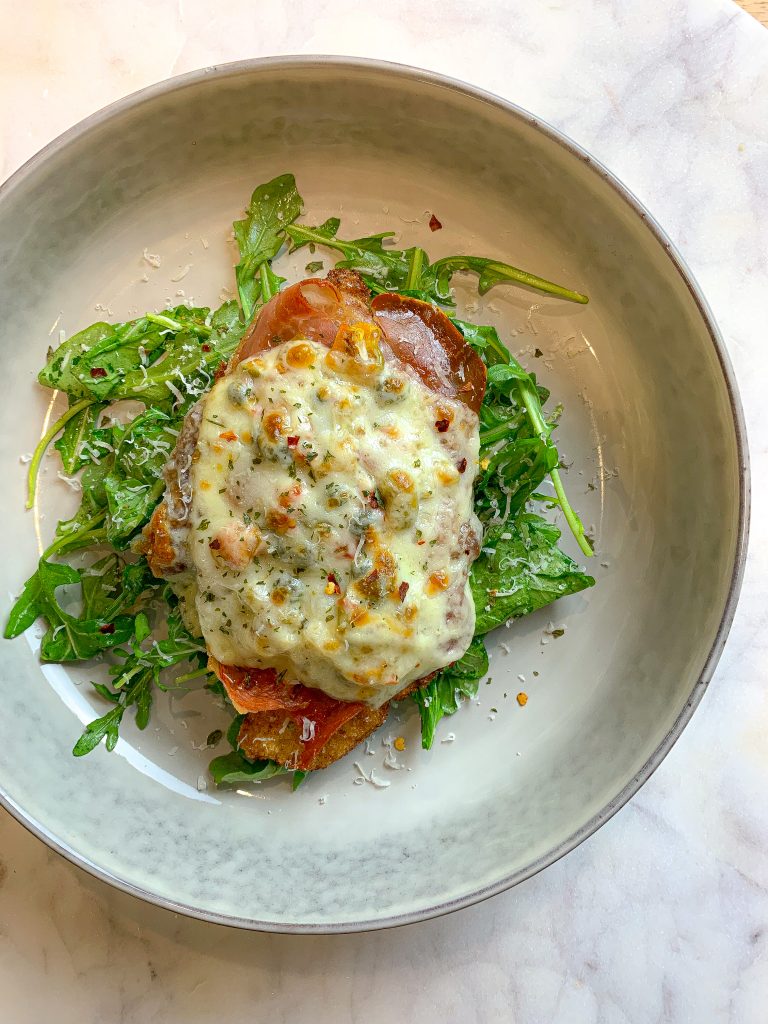 Ingredients
3 chicken breasts (sliced in half to create 6 pieces)
Thinly sliced prosciutto, one for each piece of chicken
6 slices of provolone
1 tbsp. of capers added to olive mix
1-2 tbsp. of chopped pickled hot cherry peppers added to olive mix
Roughly about 4 tbsp. of olive salad (I used Boscoli Italian Olive Salad)
Arugula
1 lemon juiced
Drizzle of olive oil (I love this William Sonoma Garlic Goodness)
Cracked black pepper
A little fresh grated Parmesan cheese
Dredging Station
2 eggs with a splash of water
1 cup of Italian bread crumbs
1  cup Panko bread crumbs
1 cup of all-purpose flour
½ cup fresh grated Parmesan cheese
2-3 tbsp. extra virgin olive oil
2-3 tbsp. butter
Salt
Pepper
2 tsp. onion powder
2 tsp. garlic powder
1 tbsp. fresh chopped parsley
1.5 tsp. paprika
Directions
I like to set my oven to 200 degrees so I can put the finished chicken on a wire tray to keep them warm while I make the other pieces. This is very helpful when you make a large quantity all at once. The above measurements of the seasonings should be enough, but if it's not just add a little more.
First thing we want to do is cut our chicken cutlets and tenderize them so they are thin and even all around. I place plastic wrap over the chicken to keep from chicken bits flying and use a meat tenderizer.
Then we want to prep our dredging stations. I just do them on large dinner plates, but you can also use shallow pans.  First station will be our flour; I like to season the flour with salt and pepper, paprika half the onion and garlic powder. Our second station is our eggs; I whisk them together with a splash of water and a little parsley and a tiny bit more salt and pepper. Third is our bread crumbs and cheese. I like to use both types of bread crumbs mixed together. The Italian bread crumbs give flavor and the panko gives that nice crispy crunch. The cheese gives it a nice salty sharp taste. I mix in the remainder of the onion and garlic powder too.
In a large sauce pan I do a mixture of olive oil and butter to coat the bottom of the pan well. Cook over medium heat. Test the oil before you drop in your chicken to make sure it is hot enough. I either add a piece of bread crumbs and see if it sizzles or a flick of water off my hand. If it's not warm enough it will get soggy. Each side should take about 3-5 minutes.  When each piece is done cooking place it in the oven to stay warm.
Do 2-3 pieces at a time so you don't crowd the pan. You may have to adjust your temperature a little in-between batches, sometimes it will get to hot and start burning.  If you are making a bunch for an event, I suggest that after every 6 pieces you change out the oil and butter.
Once all the chicken is done and sitting in the oven assemble your olive salad. Mix olive salad with capers and diced cherry peppers. I usually try and drain extra oil back into the jar of olive mix.
Remove the chicken from the oven and turn the oven on broil.
Place a slice of prosciutto on each piece of chicken, followed by about a table spoon of olive salad then a slice of provolone. Place them back into the oven to melt the cheese and crisp the prosciutto. It shouldn't take more than a few minutes and make sure you don't put it too close the broiler and burn it.
Assemble the salad by mixing a few handfuls of arugula with some fresh squeezed lemon juice, olive oil (I go light with this), a sprinkle of salt and fresh cracked pepper and some fresh grated Parmesan cheese.
Serve chicken over salad.