This Coconut Cake with Citrus Curd came out so good. I was honestly impressed with myself since my baking skills are not what they could be. Over the weekend it was my mother-in-law's birthday, she had shared with me how her grandmother would make a coconut cake that she just loved as a child. She didn't have a recipe but she found the base for a plain coconut cake online that she liked, so I gathered up the materials and gave it a go, making some adjustments and embellishments along the way.
I know her and my father-in-law love lemon curd, so the filling is lemon and orange curd. Now, I'm not the biggest coconut fan, but this was lovely. It wasn't overpoweringly coconut or sweet and the lemon and orange curd was just the perfect amount of tart. The lightly toasted coconut on the outside gave it a wonderful nuttiness and it was a pretty light cake to eat overall. I think it would be perfect for any springtime celebration.
Everyone loved the cake and when I asked my MIL how it was compared to the one she had growing up, well it didn't taste anything like it, the one she had tasted like the snowballs you get from the gas station. We had a good laugh. So I didn't successfully recreate her childhood cake but instead made something new and tasty with this Coconut Cake with Citrus Curd.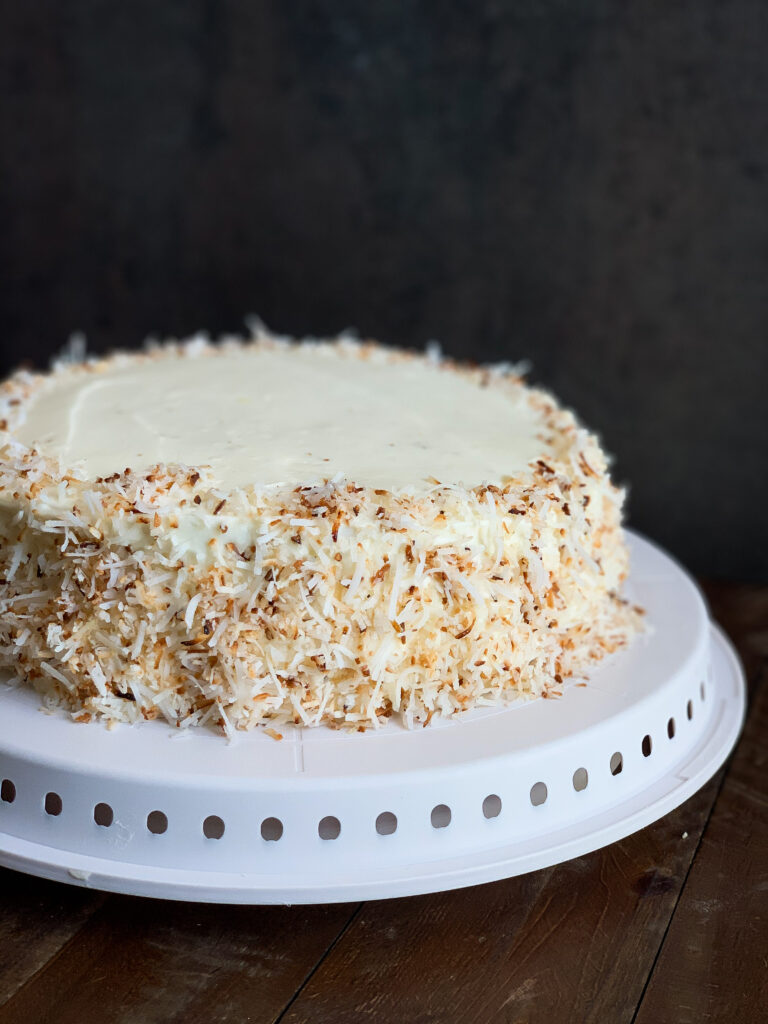 Ingredients
Cake
2 ¾ Cups All-Purpose Flour
1 tsp. Baking Powder
½ tsp. Baking Soda
½ tsp. Salt
1 ¾ Cups Sugar
1 Cup 2 Sticks Unsalted Butter, Room Temperature
1 Cup Sweetened Cream of Coconut-like Simply Squeeze COCO Real (it's usually at the grocery store in the mixer area of the liquor department. It's used to make piña coladas)
4 Large Eggs Separated
1 tsp. Vanilla Extract
½ tsp. Coconut Extract
1 Cup Buttermilk or Sour Cream or Regular Plain Yogurt. You can make butter milk yourself but I find those others work just as well and are easy to find.
Frosting
2 -8 Ounce Packages Cream Cheese at Room Temperature
½ Cup (1 Stick) Unsalted Butter, at Room Temperature
3 Cups Powdered Sugar
½ Cup Sweetened Cream of Coconut
1 tsp. Vanilla Extract
½ tsp. Almond Extract
Lemon and Orange Curd and Coconut Outside
Making curd is not very difficult. However if there is a store brand you like such as Dickersons or Trader Joe's by all means use it and save yourself the time. I like to check the ingredients on the back for good quality products. If they have a bunch of crap in them, don't buy it and make your own. If you do go that route and use store bought, I would suggest that you still buy an organic lemon and orange and zest them with a micro plain and add that to your store bought curds and mix. I think it just kicks it up a notch.
I use Ina Garten's lemon curd recipe when I make it myself. I go with 2 ½ parts lemon and ½ part orange. Orange is sweet so if you add too much it will take away the tartness of the lemon. You could always play with this and make it the way you like.
For the coconut on the outside of the cake I take two cups of coconut and toast it in a large skillet on the stove. Keep an eye on it because it can burn real fast. Once you see it start to brown take it off the heat and continue to toss and then remove it to a plate to cool. You want it cool before you put it on frosting.
Instructions
Preheat oven to 350 degrees. Spray 2- 9-inch cake pans with non-stick baking spray.
In a medium bowl, combine flour, baking powder, baking soda and ½ teaspoon salt. I like to put all these ingredients through a fine mesh strainer so that I know all the clumps are out. Then I give it a quick whisk to mix it all.
In a large bowl, add sugar, butter and sweetened cream of coconut. Using an electric mixer beat until fluffy, about 3 minutes. Beat in egg yolks, one at a time. Add vanilla and coconut extracts. With the mixer set on low, beat in dry ingredients and then buttermilk, each just until blended you don't want to over mix because then it becomes too soft.
In another bowl, using a clean and dry beater, beat egg whites and a pinch of salt until they are stiff but not dry. Gently fold egg whites into cake batter.
Evenly divide batter between prepared cake pans. Bake in preheated oven for about 45 minutes or until the toothpick inserted into the center comes out clean. Allow cake to cool in pans for 10-15 minutes then turn cakes out onto racks to cool completely. I like to usually make the cake the day before and then the frosting the morning of. I store the cakes by wrapping them in plastic wrap when they are COMPLETELY cool otherwise it will create steam. If you don't wait overnight, you still have to wait for cake to be very cool; otherwise your frosting will melt.
When cakes are completely cool make the frosting. Using an electric mixer beat room temperature cream cheese and butter together until they are just combined (don't over-beat). Add cream of coconut, vanilla and almond extracts and beat just until combined. Add 3 cups of powdered sugar little by little and beat until all ingredients are just combined and smooth.
Place a small dollop of frosting on your cake platter, then I like to take two pieces of parchment and slide them under where the cake will be while I decorate. Then I gently remove them when done. This keeps everything nice a clean.
Level off the top of your cakes if they are uneven with a serrated knife. You want a nice flat surface. Then add your first layer of cake to decorate. Do a ring of frosting on the outside of the cake layer but not on top, just right up the sides and all around this will help hold the curd in the middle. Fill the middle of the cake with the curd and a thin layer of frosting on top of it. Don't go crazy with it, if you put too much on it will drip down the side when you put the next layer of cake on.
Put the next layer of cake on top gently. Using a piping bag and a spatula add the rest of the frosting. Once you have done that starting from the bottom gently press palm fulls of the toasted coconut up the sides of the cake. Store cake in the fridge until you are ready to serve.