This Spicy Miso Carbonara is FIRE! I saw Chrissy Teigen post it on her stories a few weeks ago and a day didn't go by where I wasn't fantasizing about it. Then I saw some other IG cooks whipping it up and I was like I GOT TO DO THIS. Chrissy's recipe is flawless, simple to follow and no fuss so check hers out as well. I just put a little spin on it because I had some items in the house that I thought would be welcomed additions.
If you love traditional carbonara, you will absolutely love this Spicy Miso Carbonara. It's the twist on a classic you didn't know you needed but you will be so glad to have tried. It will not disappoint.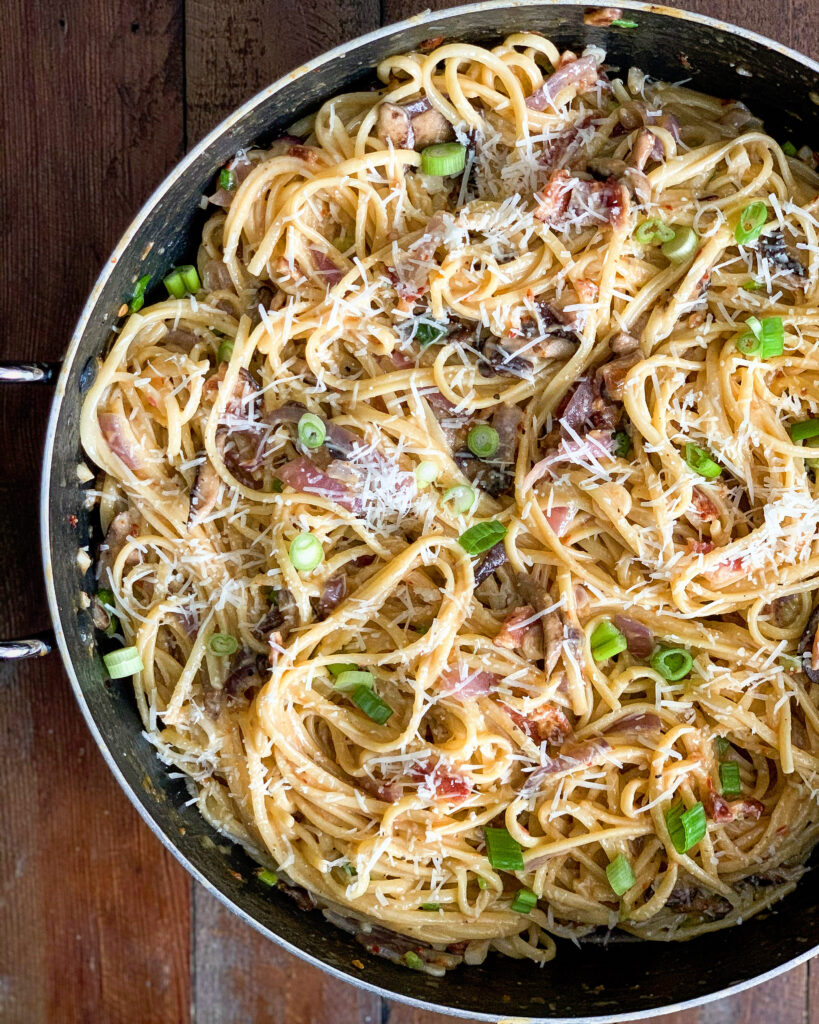 Ingredients
1-1lb package of spaghetti or linguini
½ red onion sliced
5 cloves of garlic
5oz package of sliced shitake mushrooms washed and dried
5 pieces of thick cut bacon or 4oz of Pancetta
3 scallions chopped
½ – 1 cup pasta water
3 tbsp. hot water or pasta water for slurry
4 eggs
3 tbsp. blond or white miso paste
3 tbsp. chili garlic sauce (Huy Fong)
2 tbsp. butter
1tbsp. olive oil or bacon fat
1 ½ cups freshly grated Parmigiano Reggiano cheese
Fresh crack black pepper 5-10 good cranks
1 tbsp fresh chopped cilantro or parsley or both
Directions
Set oven to 350 degrees. Take tin foil, crumple it into a ball and then uncrumple it and place it on a baking sheet to cook your bacon, it helps trap grease. Place bacon on crinkled tin foil lined baking sheet. Bake until crispy about 25 minutes or so. Once the bacon is cooked, chop up and put aside. Don't forget to save bacon fat by straining it into a heat resistant jar allowing it to cool down and then store it in the fridge. It's great for cooking eggs and making this dish!
If you use Pancetta cook it in a skillet until crispy and save the oil to cook veggies.
While bacon/Pancetta is cooking prepare vegetables and herbs and turn on a large pot of water for pasta.
Bring water to a boil, once it is boiling at a tsp. of salt and cook pasta till al dente. Reserve 1 cup pasta water. You may not need it all but it's better to have more than less.
While the water is coming to boil, heat up a large skillet with olive oil or bacon fat over medium heat. Saute mushrooms and onions till they are soft and beginning to brown and then add garlic and bacon and cook for another 2 minutes and then take your skillet off the heat.
In a separate bowl take chili oil, Miso paste, eggs and cheese. Then slowly add 3-4 tbsp. of the pasta water to temper your eggs.
Drain pasta and place pasta into the skillet with mushrooms, bacon, onion and garlic with 2 tbsp. butter and toss well. Now pour in your chili egg mixture and continually toss with thongs. You do not want to scramble the eggs, so keep tossing the pasta and the mixture and slowly pour in ½ a cup of the pasta water and keep tossing. It will cook the eggs without scrambling them. After tossing the pasta return it to the heat and add fresh cracked pepper and fresh herbs and toss again. Check for seasoning and constancy. At this point you can add more water, chili oil or cheese etc. if you like to get it to a constancy you like.