I absolutely love french onion soup. It's a simple soup: onion, broth, cheese and bread, yet I have been two places that have f***ed it up.  One place had no cheese and another place no bread/toast. This french onion chicken will give you all the feels of a delicious bowl of French onion soup but with protein and more cheese and bread, sounds good right?
When I was a kid, I religiously would order french onion soup and a Caesar salad everywhere I went. This recipe serves 4 hearty servings. I also share in this post how to make your own delicious croutons. It's super easy and they taste great. You won't have to buy store bought again.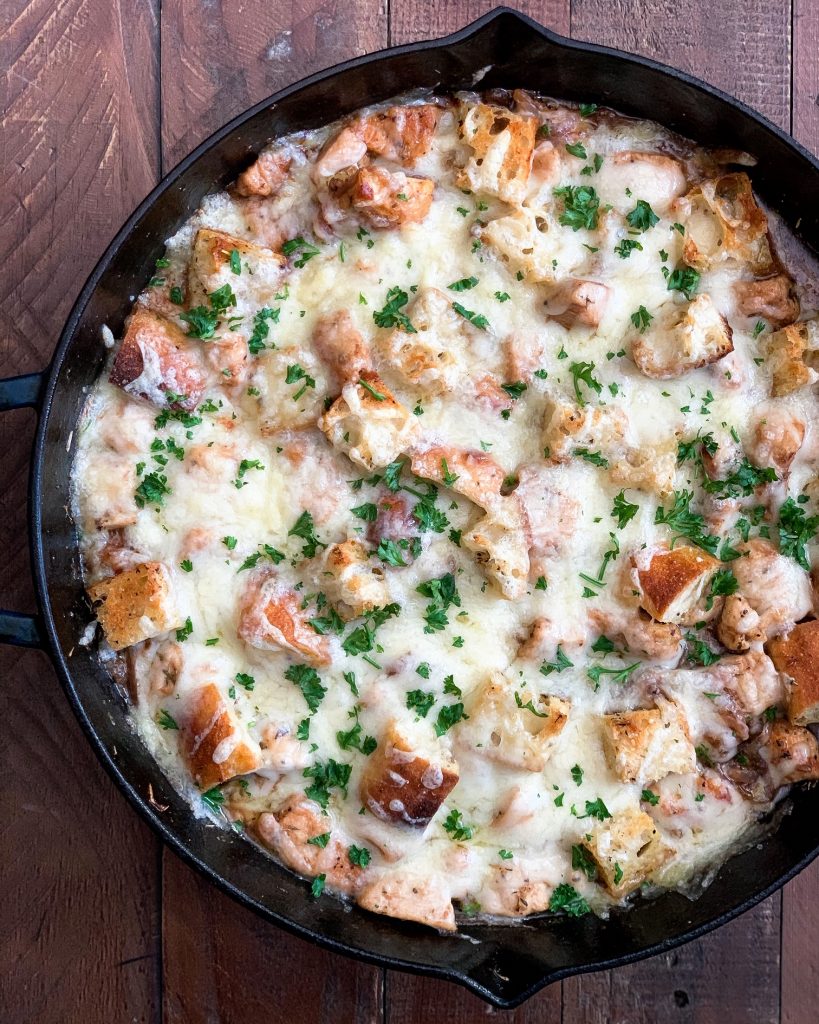 Croutons
4 cups of cubed French baguette
½ tsp. sea salt
¼ tsp. garlic powder
½ tsp. dried Italian seasoning
1/8 tsp. onion powder
1/8 tsp. tsp. black pepper
1/3 cup olive oil
Directions
Set oven to 375 degrees. I usually let my bread sit out for a day or two to harden up a little bit before I make these, but you can totally use a fresh baked bread. You will just need to cook them a little longer.
Cube your bread and add it to a bowl. Mix your spices together in a small bowl. Drizzle and toss your cubed bread in olive oil and then sprinkle and toss it with seasoning. Spread evenly on a lightly oiled/sprayed baking sheet and bake for 10-15 minutes. I toss them half way through. Great in this dish, stuffing, salads or wherever you want croutons.
Ingredients for Dinner
1 ½ lbs. Chicken breast cubed
1 ½ yellow or white onion thinly sliced
1 ¼ tsp. dried thyme
3 garlic cloves pressed
¼ cup dried red wine
¼ tsp. Better than Beef Bouillon
Salt and Pepper to taste
1 ½ tbsp. olive oil (split up)
2 tbsp. unsalted butter (split up)
3 tsp. flour
¾ tsp. dried oregano
2 cups beef stock/broth
1 cup shredded Greyer cheese
1 cup shredded Swiss cheese (if you have a Trader Joe's near you, they sell a shredded blend for the two cheeses together)
1 tbsp. fresh chopped parsley
Directions
Prep all your ingredients. In a large cast iron skillet over medium low heat, add 1 tbsp. olive oil and 1 tbsp. butter. Once it has melted, add your onions. Toss them in the butter and oil well and allow this to cook for 2 minutes and then reduce your heat to low. Slowly cook the onions for 25 minutes, stirring often. After 25 minutes, add your wine, beef bouillon and half of your dried herbs stir and cook on low for another 10-15 minutes. You want your onions very soft and jammy. Once they are, remove them and set aside in a bowl.
Take your chicken pieces and add it to a bowl, coat it with the flour and the rest of the dried herbs. Add the remainder oil and butter to the pan and add the chicken to cook. Brown the chicken over medium heat. Once the chicken is mostly cooked through add back in the onions and the beef stock/broth. Scrape up the goodies on the bottom of the pan and bring it to a boil. Reduce to a simmer until the sauce has reduced and thickened.
Turn on your broiler on high. Turn your stove top off and remove your pan from the heat. Take your croutons and nestle them into the pan. I used almost all of them. Then evenly coat with cheese. Place under broiler for just a few minutes to melt the cheese. Remove and sprinkle with parsley.
I recommend if you are not eating it all in one evening is to portion it out into oven safe servings and then add the crouton and cheese to broil. That way the leftover mixed with the croutons don't get soggy in the fridge overnight.