Garlic and Herb Mashed potatoes are life. I honestly could eat them everyday of my life. As I sit here, I'm wondering why I haven't. I'm also thinking about the great famine of Ireland 1845-1849, and now I'm sad. The good ol' Irish Catholic guilt, it's a thing. I'm just going to say a few Hail Mary's real quick…
I love mashed potatoes, and I love garlic, so when I make my mashed potatoes, be prepared. If you are not a garlic fan, you should still use like 1 clove or roast some garlic ahead of time and add that instead. The roasting process makes the garlic a little more mild and sweet. When I have the time, or remember to, I personally enjoy it in my potatoes.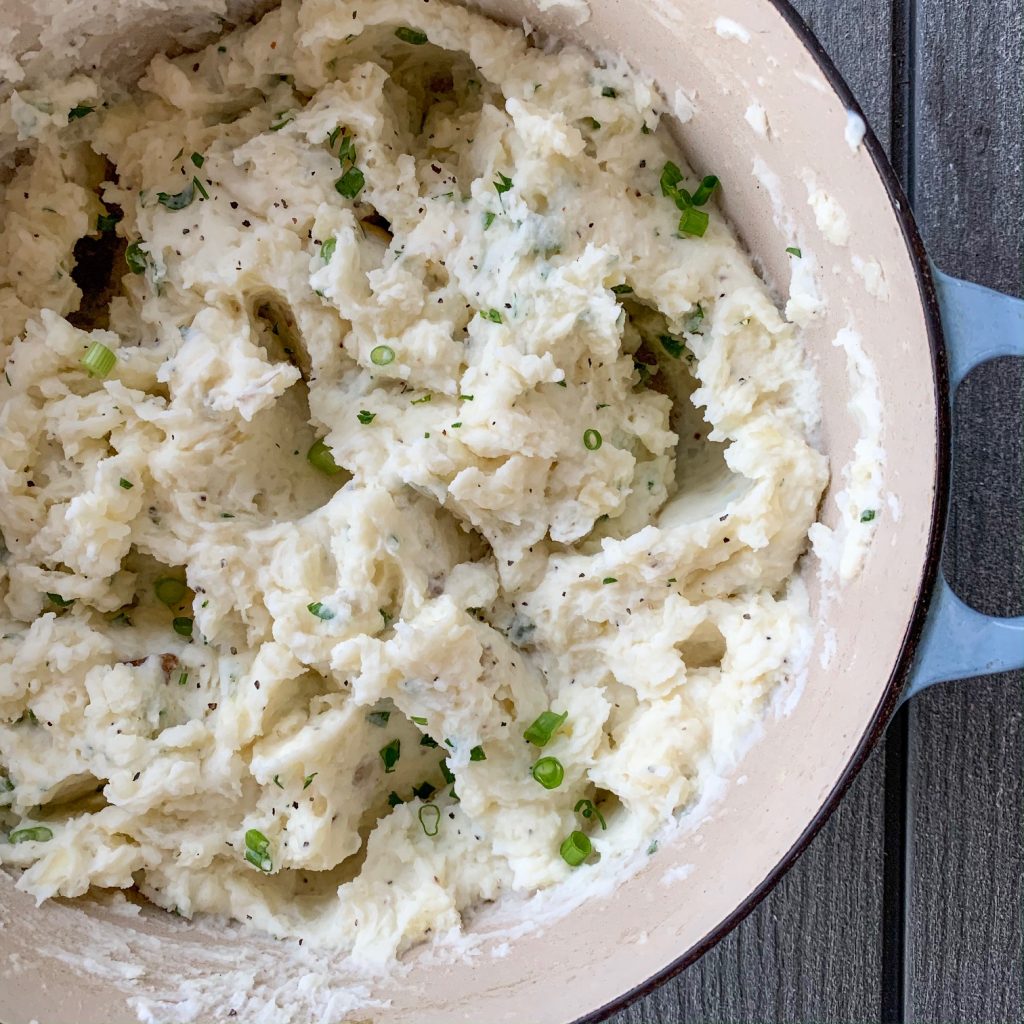 Ingredients
3 lbs. golden potatoes
5 cloves pressed garlic
3 tbsp. unsalted butter
½ cup fresh grated Parmesan cheese
½ cup sour cream
¼ cup whole milk or half and half
¼ cup chicken or veggie stock
1 chive diced
¼ cup of ranch dressing
Herbs
I used dry herbs, but you can use all fresh. If you use fresh herbs use 3X the measurement. That means one tbsp. of fresh herbs to one tsp. of dried.
½ tbsp. dried parsley
¼ tsp. dried dill ( I personally am not the biggest dill fan, so you can leave it out)
½ tsp. onion powder
¼ tsp. garlic powder
½ tsp. onion flakes
1 tsp. each sea salt and pepper, you may want more so always taste test
Directions
Wash and chop your potatoes into even cubes. The skin of the potatoes can stay on. Add them to a large pot and cover with cold water. Bring to a boil, lower heat and cook until fork tender, about 5-8 minutes.
While potatoes are cooking, get everything else ready. I take a small sauce pan and add butter and garlic and cook on low. You don't want to brown the garlic. Just heat it enough to flavor the butter and keep warm. Once it gets warm enough and the garlic is cooking, I add stock to reduce the chances of garlic to burn. Mix together. This would be a great opportunity to use roasted garlic as well.
When potatoes are fork tender drain them in a colander and turn off heat on stove. Add potatoes and all ingredients back to the pan with potatoes and mash together. Don't over mash. Check for seasoning and serve.