As I write this, I am chasing two flies around my house that my dogs let in. It's 97 degrees out today. We don't have A/C in the house, just in our bedroom, and I'm dying. I don't suggest you eat hot curry on a hot day, but you live your life and I'll live mine. If you are going to though, give this recipe a try.
Soon the children will be returning to school, and I will be able to use our community pool again. I remember when I was a kid. If there were adults at the pool, my parents would tell us to behave. That's not the case here, they are tyrants that chase us out, and their parents get joy out of them taking it out on strangers instead of them. I'm only half joking…
I made this recipe in an Instant Pot because my boneless skinless chicken thighs were frozen, and I didn't have time to thaw them out. You can absolutely make it with non-frozen chicken in an Instant Pot or in a Dutch oven on the stove. I shredded the chicken because when I cook it from frozen, the texture is just better that way. If I was to do it with fresh chicken, I would season it, sauté it and then chop it up into pieces. You can leave the pieces whole too. It's really up to what you like. I personally love chicken thighs, but you can do this with breasts too.
If you make it on the stove, let the sauce simmer for 30 minutes with the chicken in it and add the veggies at the last 10-15 minutes to cook. For fresh chicken in the Instant Pot use the sauté function first to brown chicken then do the next steps in order. Pressure cook it for 10 minutes on high without the added veggies. You would natural release for 5 minutes then quick release. Add veggies in, and cook again for two minutes and quick release.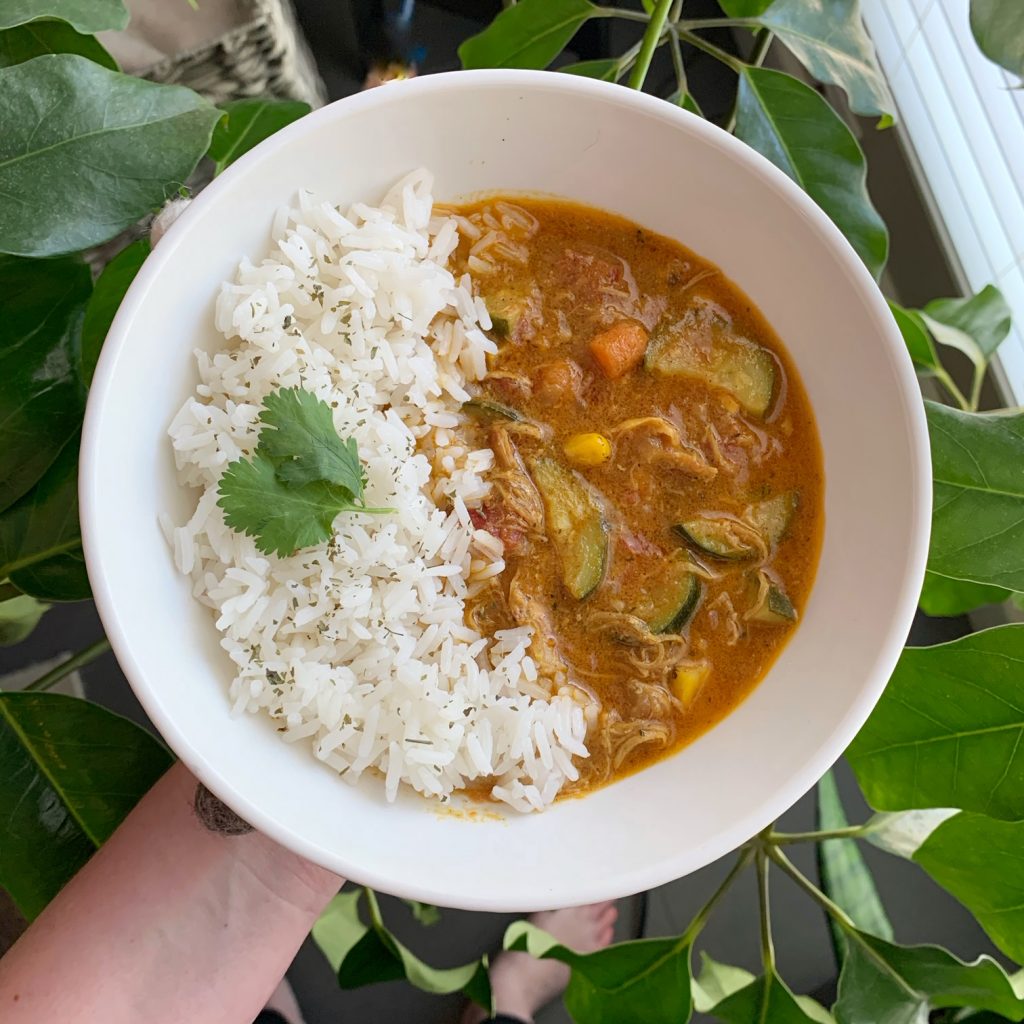 Ingredients
1 ½ lbs. boneless and skinless chicken thighs
1 tbsp. olive oil
2 tbsp. curry powder
½ tsp. turmeric
¼ tsp. cinnamon
1/8 tsp. cayenne
1 ½ tsp. sea salt
½ tsp. black pepper
1-14.5 oz. can of no salt added diced tomatoes (drained)
1 small onion diced finely
4 gloves of garlic minced
1 tbsp. fresh ginger paste
¾ cup coconut milk
1 small zucchini chopped
1 carrot chopped
½ cup frozen or fresh corn or canned whole corn kernels drained
½ cup chicken or veggie stock
1 chicken better then bouillon cube
1 tbsp. fresh cilantro
½ tbsp. fresh basil
Juice of one lime
Make a side of your favorite rice
Directions
Prep all your veggies and spices and get your rice going. Basil and Cilantro are not going to be added till the end. Remember I am making this with frozen chicken.
Turn your Instant Pot onto sauté and add your onion and olive oil. Cook down for about 3 minutes and add your garlic and ginger and mix. Cook for 1 minute. Add your tomatoes and half of your seasoning, bouillon cube and chicken stock and mix. Cook for 3 minutes. Turn off and add frozen chicken with the rest of seasoning. Place lid on and hit manual high 15 minutes. Let it cook and then natural release for 5 minutes then quick release.
I use a hand mixer to shred chicken in the actual Instant Pot. It will be hot, so be careful!
Once it's shredded, I taste it for seasoning. Then I add in all the veggies, lime juice and coconut milk and mix. I put it back on for 2 minutes to cook veggies and quick release. Mix in the basil and cilantro and serve with rice