So, I just Googled the origins of Puttanesca….Not nice people! If this is what the ladies of the night made, good for them, it's tasty.
You do not need to add meat to this dish. That is 100% optional. Puttanesca traditionally doesn't have it. I, however, because of quarantine have a bunch of frozen ground meats still, and I wanted to use some. It doesn't hurt to add a little protein. If you decide not to use meat, only add ½ tsp. of Italian seasoning for this meal.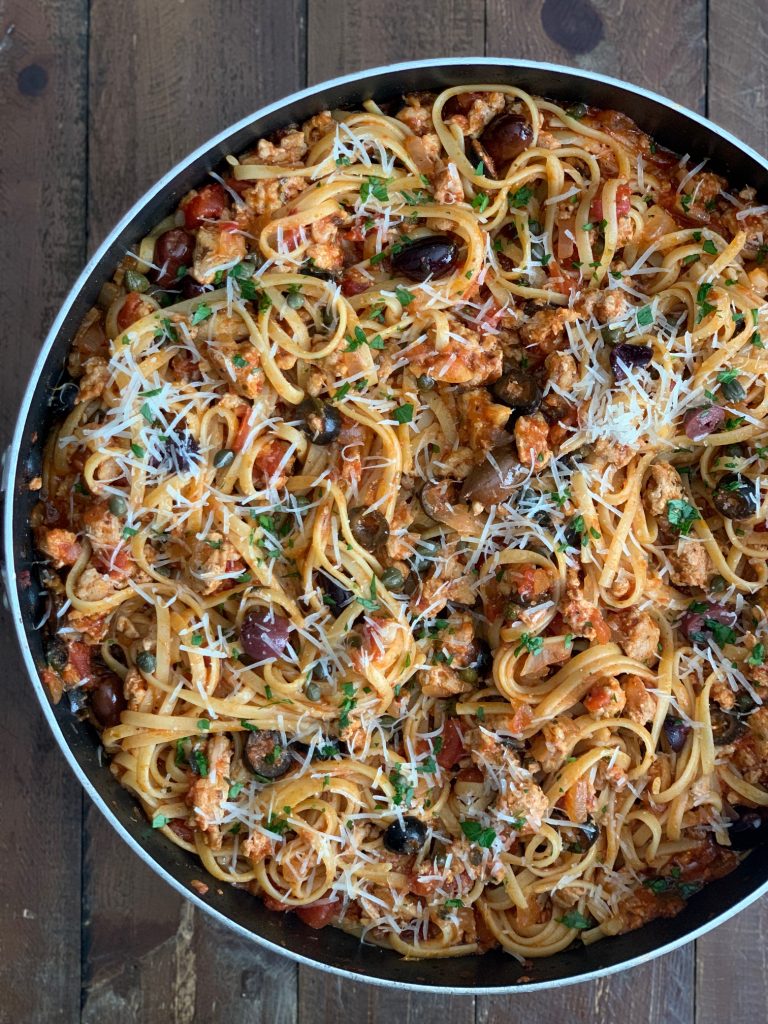 Ingredients
1 lb. Ground Chicken or Turkey
1 lb. Linguini or Spaghetti or really any pasta you like
½ Onion finely chopped
5 smashed and chopped garlic cloves
25 oz. Jar of basil pasta sauce, once empty add ¼ cup of water and shake it, add that in too
1 tbsp. Fresh basil chiffonade
½ tbsp. Fresh parsley chopped
2 tbsp. Olive Oil
3-4 Anchovies
2 tbsp. Capers
Small can of sliced black olives (2-3oz)
¼ of a cup chopped Kalamata Olives
1 tsp. Italian seasoning
¼- ½ tsp. crushed red pepper
Salt and Pepper to taste
½ cup of grated Peccarino Romano cheese
¼ cup of pasta water
Directions
Add olive oil to a large skillet and fill a pasta pot with water and boil. Once water is boiling add your pasta and cook till al dente, reserving ¼ cup of pasta water.
Once the skillet is hot, add your anchovies and cook for 4 minutes till they dissolve. Then add ground meat, break it up and cook on medium till it's almost browned. Once the meat is about cooked, add your onion, Italian seasoning, sprinkle of salt and pepper and continue cooking.  When those have cooked down, add your garlic, mix, cook for 1-2 minutes and then add your pasta sauce.
Cook for 3-5 minutes. Then, add in your capers, olives, red pepper and stir. Cook for 3 minutes then take off heat to add in your fresh herbs, pasta, pasta water and mix. I let it all sit together for a few minutes to merry and then lastly garnish/mix in your cheese.