Savory fried dough is a staple of my childhood growing up in the greater Waterbury, CT area. It brings back memories of fun, a little trouble and great food from the Mount Carmel Feast and Ponte Feast. It's also served at most of the local town fairs as well in the summer and early fall.
This is not the same as a funnel cake, although you can make it sweet or savory. I personally am not a big fan of sweet, but you can definitely dust this with powder sugar or add a chocolate drizzle or some fresh fruit or all of the above. You can add whatever your little heart desires.
Fried dough is great too for crowds because it relatively fast and cheap. You just need you favorite pizza dough, sauce, canola oil, Parmesan cheese and some good tongs. A great way to switch up pizza night. Everyone I have made fried dough for has loved it. Check out some other fun pizza ideas here.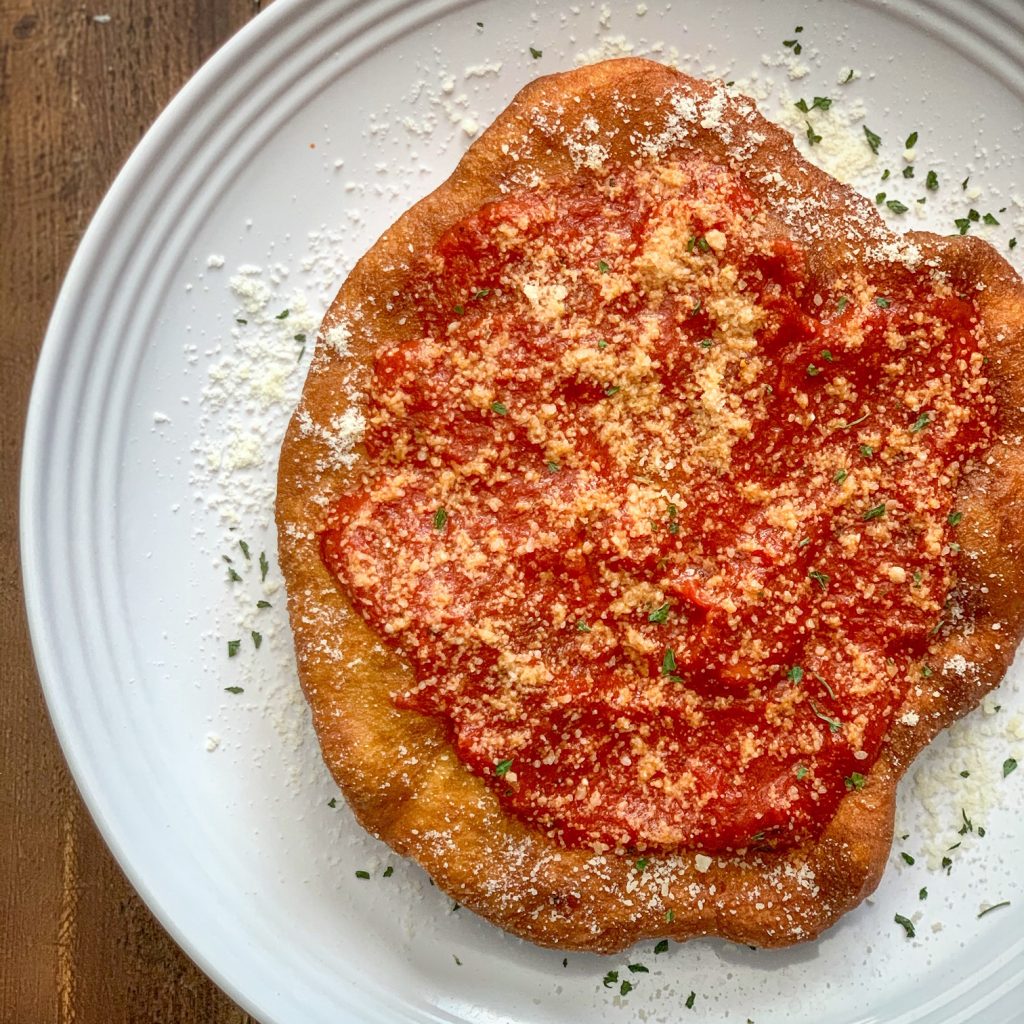 Ingredients
Pizza Dough
Sauce
Parmesan Cheese
Canola Oil
Parsley for garnish (optional)
Directions
Get a Dutch oven or something you can fry in safely. Pour in oil to give you about ¾-1 inch of oil in the pan, bring the temperature up to 350 degrees. I have a thermometer that sits in it while I cook.
I usually get ready made dough from the grocery store or a pizza shop. From there, I can usually make 4 pieces of fried dough out of the one ball of dough you buy. I cut it into fourths with a sharp knife and roll each out like you would pizza dough. Then one at a time I slowly lower it into the hot oil away from you. The dough will bumble up; you can pop the bubbles if you like. I usually cook it 2-3 minutes on each side till golden brown. I take it out put it on a piece of paper towel to catch some oil and then I place it on a plate, covered in warm sauce and sprinkle with cheese.
If you are doing a bunch of them continue to monitor the oil temp as you go. You may need to add additional oil along the way.