Roasted spaghetti squash is an all-time favorite of mine, zoodles who? Honestly it's just so much better. Does it take a little muscle, yes, but once you do it you get the hang of it (cutting it open) and it's less intimidating.
When making roasted spaghetti squash you can make whatever kind of sauce you want with it. It's fall right now, so I am making my favorite Trader Joe's pasta sauce that comes out this time of year. It is called Autumnal Harvest Creamy Pasta Sauce. It's a little sweet and creamy, and I just love it. You can stop there, but I decided to add sautéed spicy sausage, mushrooms, fresh spinach, and then finished the dish by topping it with fresh herbs and Parmesan cheese. If you want to see how I made that sauce visit my Instagram and it's saved in my highlights.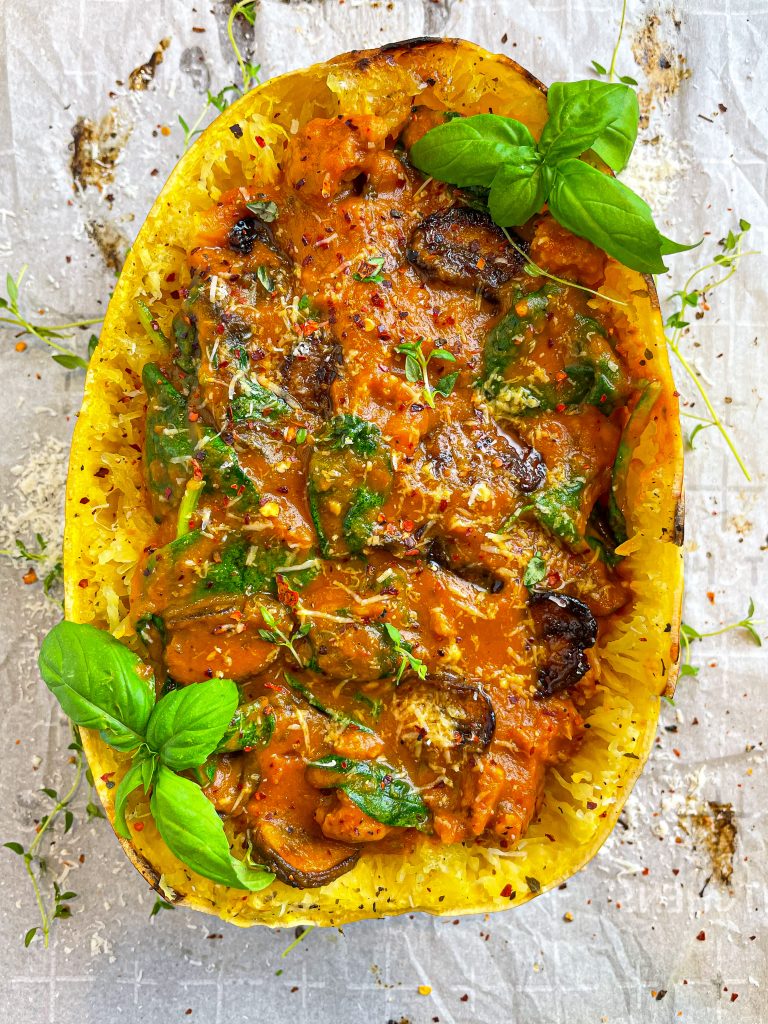 Directions
To cook your spaghetti squash, you will want to turn your oven on to 400 ˚F .Cutting open a spaghetti squash can be a little scary the first time because it can be a very challenging to open up. You want to have a nice sturdy cutting board (place a damp towel under it to keep it from moving around) and a good sharp serrated knife. I start by stabbing straight into the squash and gently moving the knife side to side. Make sure the sharp side is pointing away from you and your hand is behind it, not in front. I poke holes all the way down and then go back in and try to connect them by sawing it and make one long cut. Then I flip it over and do the other side. I usually then can just give it a couple good bangs on the cutting board and it opens up. There are a lot of different ways to open it; I suggest you watch a few videos on YouTube first if you are unsure. Some people like to cut it into slices instead of halves. You get the same squash just won't be able to serve it like it is in my picture (which isn't necessary, it just looks pretty).
Once it's open, use a large spoon or a small metal measuring cup to scrape out the seeds until it is nice and smooth. Using a fork, poke some holes on the outside of the squash to help it cook more evenly. Then, drizzle olive oil all over the inside of the squash and rub it in. Sprinkle with a little salt and pepper, then place it face down on parchment paper and cook for 40-50 minutes. Take it out, and allow it to rest for 10 minutes. Once it's rested, use a fork to gently scrape the sides down to make it spaghetti-like. Pour your sauce over it and serve as-is, or remove it into a bowl and serve the sauce on the side.