Thanksgiving meatloaf takes the stress out of Thanksgiving dinner. You get all the wonderful flavors of a traditional Thanksgiving meal without hours of cooking and the crazy price of making the traditional spread. This recipe is really perfect anytime of the year when you have a hankering for the taste of Thanksgiving.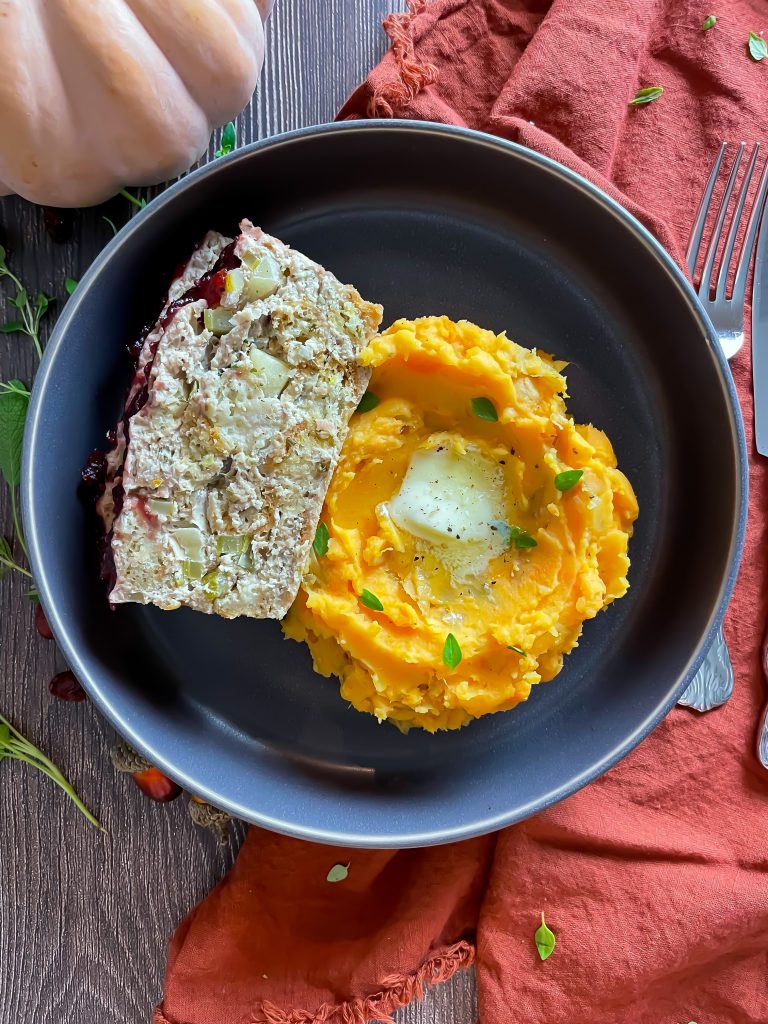 The idea for this came last year when my MIL and I decided that we were not doing the big traditional spread, since a lot of family wasn't going to be around and we were taking off the next day for a trip. We still wanted the taste of Thanksgiving but on a smaller scale, and that's when I said "what about a Thanksgiving style meatloaf?" She makes a great meatloaf, so I knew we were in good hands. It came out awesome and we had sandwiches for days on our trip.
Again, this year we will not be doing a traditional Thanksgiving, we are visiting family in AZ and they don't really like it, so we will be doing Tri-Tip and some other tasty stuff instead. However, we still wanted to have some of those tasty sandwiches you get from Thanksgiving leftovers, so I whipped together this Thanksgiving meatloaf, and it did not disappoint. The first night, I served it with some mashed sweet potatoes, cranberry sauce and gravy. You can make any type of additional sides you like too, such as green beans, brussel sprouts, broccoli or cauliflower casserole to go along with it. The second day, we made sandwiches with the meatloaf layered with mayo, cranberry sauce and mashed potatoes on top of toasted bread and leftover gravy to dunk it in.
I highly recommend giving this Thanksgiving Meatloaf a try if you are trying to keep it small this year, are on a budget or just don't want to spend 48 hours cooking and cleaning. This recipe would also work if you want to roll them into meatballs. I would suggest that you see my spaghetti squash recipe and you can use the meatballs for a fall-inspired meal.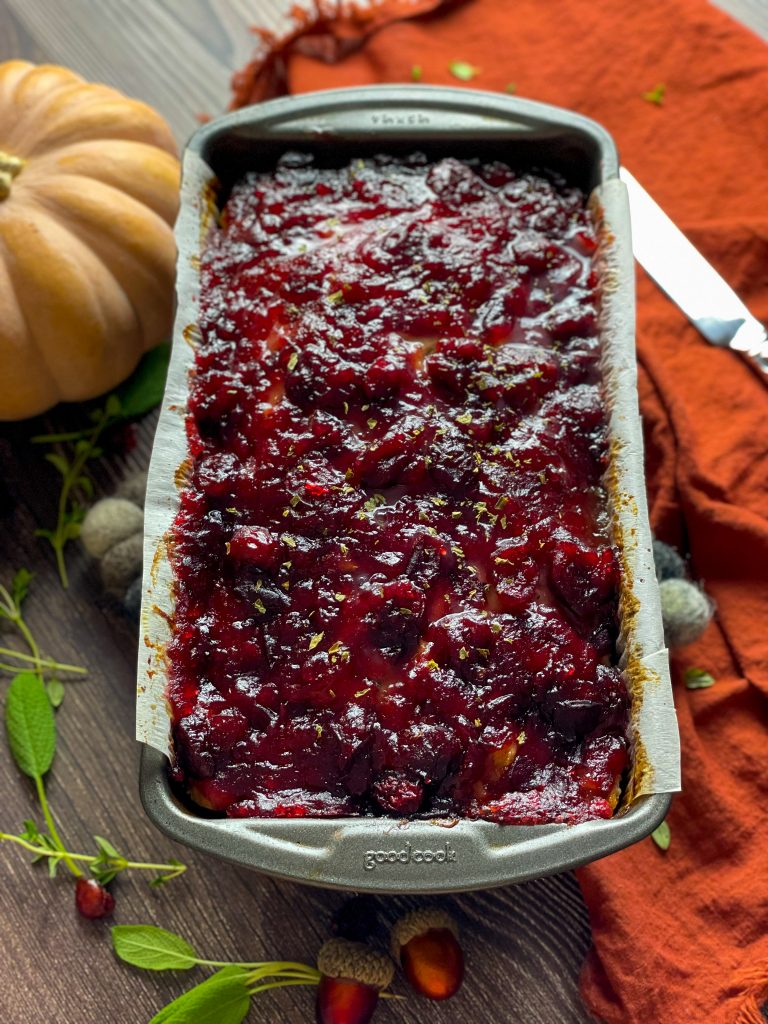 Ingredients
1 lb. ground chicken or ground turkey
1 lb. ground pork (sub more chicken or turkey if you don't eat pork)
½ large yellow onion finely diced
½ cup unsalted walnuts finely chopped (optional)
1 apple peeled, cored and finely diced (I used Honey Crisp)
2-3 stalks of celery finely diced
2 eggs room temp
2 cups of stuffing bread crumbs (I used Mrs. Cubbison's Artisan Stuffing because it's lightly seasoned. You can make your own or use panko. I do see other people use Stove Top as well. That's going to be more seasoned so just try it dry and gauge how much additional salt, seasoning you want to use when seasoning the meat.)
2 cans of whole cranberry sauce (1 for on top of the meatloaf and one for on the side)
¼-1/3 of a cup whole milk or chicken stock
1 ½ Tbsp. olive oil or unsalted butter
2 Tbsp. fresh sage chopped
1 ½ Tbsp. fresh thyme chopped
½ tsp. dried rosemary
½ tsp. onion powder
Couples dashes of Worcestershire Sauce (optional)
Salt and pepper to taste
Sprinkle of cayenne for heat
9x5in loaf pan
Parchment paper
Nonstick spray/butter/oil for pan
gravy of your liking to dip in
Directions
To deepen the flavor of your meatloaf, you can do all the steps below and allow that to sit in the fridge for a few hours. When ready to cook, set oven to 375˚ to heat up, remove your meat from the fridge for 10 minutes before cooking and then place your meat into the meatloaf pan to cook. You don't have to do this step; you can just mix and cook right away, and it will still be delicious.
In a large skillet with your olive oil or butter, add your diced onion, apple and celery. Sauté until it softens, 3-5 minutes. Then add in your rosemary, thyme, sage and some salt and pepper. Cook for an additional 2 minutes or so until everything is nice and aromatic. Remove from heat, mix in walnuts and bread crumbs and allow it to cool down. You don't want to add hot ingredients to the meat when mixing as it will begin to cook the meat.
Take a large bowl and add your meat, eggs, onion powder, Worcester, salt, pepper and cayenne. Then, add in your breadcrumb mixture and milk. Mix with your hands. (I would suggest removing rings/jewelry before getting your hands dirty)
Add it into your parchment lined/greased pan. Put it in the oven for 35 minutes. Remove it from the oven; add your cranberry sauce on top and cook for another 15 minutes or until it reaches an internal temperature of 165˚.
Take it out and allow it to rest for 10 minutes before you remove it from the pan to slice.