This sausage stuffing is going to be your next favorite dish at Thanksgiving. It's super easy to make and is a nice little spin on the traditional stuffing. The spicy sausage goes perfectly with the tart cranberries and the crisp apple and it makes this stuffing packed full of flavor. Make it this holiday season or anytime you are craving those holiday flavors.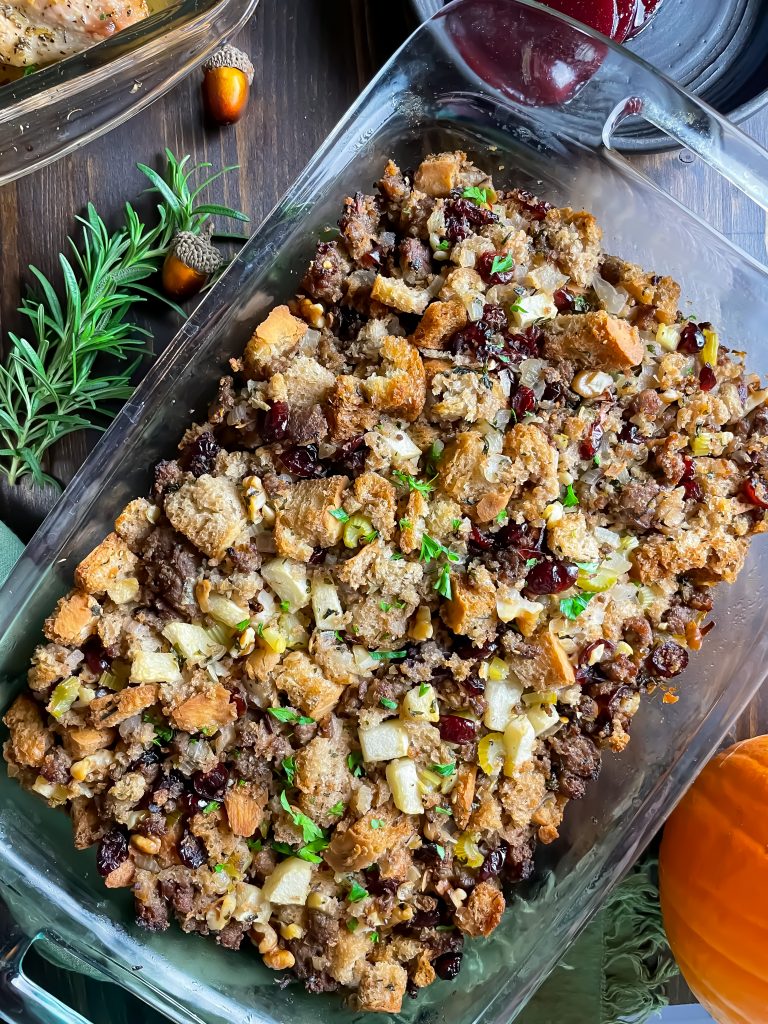 This sausage stuffing recipe was my mom's. Growing up, she hosted Thanksgiving for many years and her sausage stuffing and deviled eggs were my absolute favorite. It was actually those two dishes that made me get into cooking. She never "taught" me how to make either dish, but I watched her enough to get the gist of it. It also didn't hurt that I always ate large amounts of both whenever they were available, so I really remember their flavor profile. Every year since she passed, whether it's for Thanksgiving or Christmas, I will make it in her memory. It's my little way of having a piece of her with me during the holidays.
So for this stuffing, you use Jimmy Dean hot sausage in the tube. I know there are better sausages out there, but this is how I make it. My mom actually used to make big batches of this, so she would double everything and use half hot and half sage flavored Jimmy Dean sausage. You can totally do that as well, half and half, I just didn't want to waste any. I went with the hot sausage because it's my favorite, and I just added fresh sage to it. This recipe does call for walnuts. If you don't like nuts, you can do some finely diced mushrooms in their place. You could even get real wild and add the mushrooms in anyways. It will be even tastier.
As a disclaimer, I don't actually put this stuffing in the bird. I make it on the side. In the northeast we call everything stuffing, and apparently in other places, they would refer to this as dressing. If you are going to put it inside of the bird to cook, I would use a little less liquid when mixing it. The bird will add some juices, so maybe only do 2 cups of broth. You can always add more and pop it into the oven to crisp up after you remove it from your Turkey.
If you make this sausage stuffing, I can almost guarantee you will love it, unless you don't like anything that's in it and your a maniac and still make it. Check out my Instagram for video of me making it. It's saved in my highlights.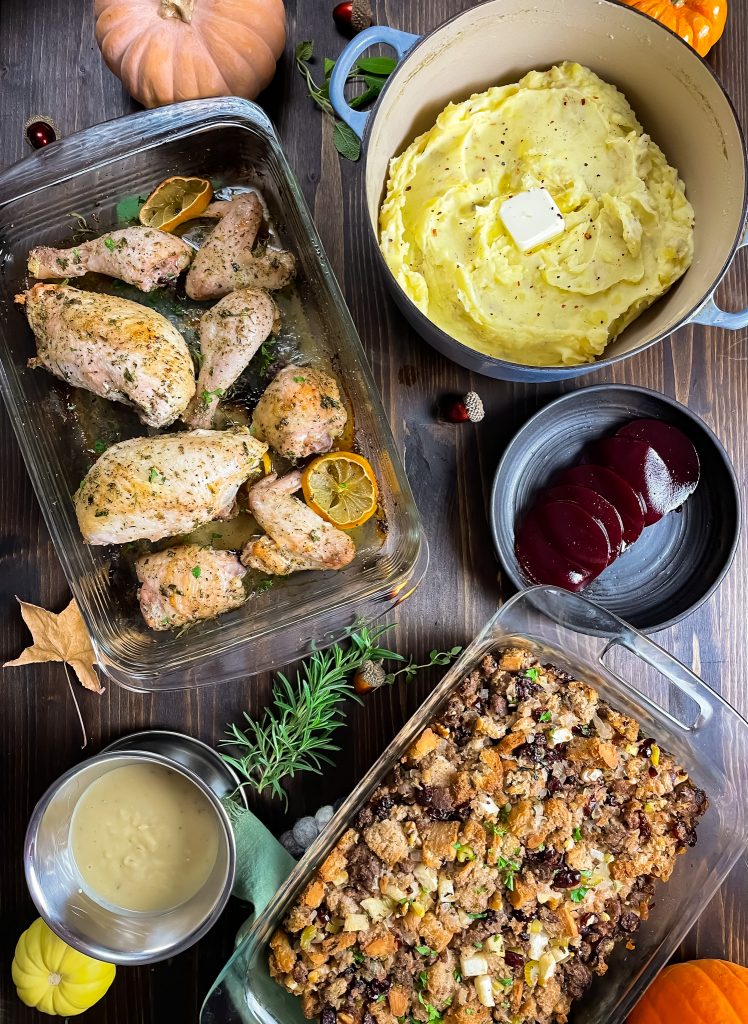 Ingredients
9 x 13 baking dish
1 lb. Jimmy Dean Hot Sausage
1 onion diced
1 apple peeled and diced
3 celery stalks diced
¼ cup of dried cranberries
3 Tbsp. unsalted butter (more to grease pan)
¼ cup of diced walnuts or ½ cup of diced mushrooms
2 Tbsp. chopped fresh parsley
1 ½ – 2 Tbsp. chopped fresh sage
1 ½- 2 Tbsp. chopped fresh rosemary
1 ½ tsp. fresh Thyme
Salt and pepper
2-3 cups of chicken or vegetable broth
4-5 cups of bread crumbs homemade or store-bought. Don't use Panko or fine style of breadcrumbs. If they are store-bought, check the seasoning on them to gauge how much seasoning to add to your stuffing. I like using lightly seasoned bread crumbs or making my own.
Directions
Turn oven on to 350˚ F to heat up. In a large skillet over medium heat, add your sausage, break it up, and brown it. When it is cooked, remove it to a plate with a paper towel on it to soak up some of the oil. Take the same pan, wipe out the oil, then add in your butter. When the butter has melted add in your celery, onion, mushrooms and apple to cook for 5 minutes until they have softened. Then add back in your sausage, fresh herbs and sprinkle with some salt and pepper. Cook this together for another few minutes.
Remove from the heat and add to a large bowl with your walnuts, cranberry, bread crumbs and toss together. Then slowly start adding in your broth and mix. You want it to be soft and moist but not overly mushy. I usually use all 3 cups of liquid. Once it's all mixed together and the consistency that you like, add it to your greased baking pan, cover with foil and cook for 30 minutes. You can always add more liquid when you check it. Once the 30 minutes is up remove the foil. If it looks too dry, add a little more liquid. Cook for another 15-20 minutes uncovered till it's crispy on top.
You can make it the day before. Just cook it for 30 minutes and remove from oven. Allow it to cool completely, then cover and refrigerate. On the day-of, remove from the fridge, allow it to come to room temperature and bake uncovered for 25-30 minutes at 350˚F while the turkey is resting